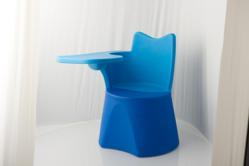 "The design was optimized for maximum quality at minimal cost...We utilized one predominant material, which could be easily dismantled and ultimately, recycled"
Great Neck, NY (PRWEB) February 09, 2012
The Qdesk One, made of 100% recyclable polyethylene – a base and chair with attached table - is intended to replace traditional desks or separate table/chair combinations. Desks for children are typically manufactured with multiple materials, which wear out or break down over time with heavy usage.
Integrated Design of Great Neck, NY created the two-piece Qdesk One model for children between two and six years of age. The colorful and elegant design is based on a larger model for older children introduced by Qproducts™ LLC in classrooms in South America, Mexico and Asia. The smaller Qdesk One is designed to accommodate the specific fit and comfort specifications of pre-schoolers and will be marketed through retail outlets for consumers.
"The complex geometry of the original Qdesk's four-piece mold was maintained in our smaller, two-piece mold," says Michael Paloian, President, Integrated Design. Soft contoured lines respond to a child's physically important growing years, but the desk is structurally sound, durable, easily assembled, safe and cost-effective, according to Paloian.
"The design was optimized for maximum quality at minimal cost," Paloian explains. "The desk breaks down into two small pieces, providing a substantial 30% savings in packaging size, and improved efficiencies in warehousing, shipping and the cost of materials," he says.
Sustainability and recycling were important design considerations. "We utilized one predominant material, which could be easily dismantled and ultimately, recycled," Paloian says. Processing plastic versus steel or other materials used in traditional desks also saves energy during manufacturing. The smaller shipping container will, in turn, reduce transportation energy consumption. "As an eco-friendly alternative, the Qdesk One promotes environmental stewardship both in and out of the classroom," Paloian noted.
As part of the design specifications, Qproducts™ required IDS designers to modify the original Qdesk without adversely affecting the appearance, structural integrity or tooling. In addition, Integrated Design was required to optimize the shipping carton size and ensure that a customer can easily assemble the two-part desk.
Human factors, including height and weight data, played a central role in sizing and configuring the Qdesk One. Full-scale, foam-core models were used in testing to ensure that the desk met the ergonomic criteria for active young children.
Integrated Design closely collaborated with Qproducts™ during all stages of the design process to ensure that the design objectives were met for the Qdesk One. "This project serves as an excellent example of how a vision, cooperation, great communication and technical expertise can result in a successful product," Paloian says.
###