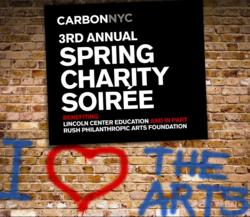 New York, NY (PRWEB) February 09, 2012
Carbon NYC will host its third annual, highly anticipated charity fundraising event, the Spring Charity Soirée on May 11, 2012. Carbon will take over Center 548 (548 West 22nd Street) to put on an artistic feast for the senses complete with live performances by award winning artists, a contemporary art exhibition and sale curated by Rush Philanthropic Arts Foundation, New York's top DJs, a silent auction of one-of-a-kind experiences and luxury items, hors d'oeuvres by renowned caterers and a sponsored open bar. The fundraising event will support arts education and access in underserved New York communities by raising funds for the education programs of Lincoln Center and, in part, Rush Philanthropic Arts Foundation.
The event comes on the heels of 2011's sold-out event, which raised $100,000 for Bronx-based CampInteractive and featured a performance by award-winning musical artist, Jose Conde, a contemporary art auction, two internationally renowned DJs, Lili Lamar and Brendan Fallis, gourmet hors d'oeuvres from Betel, and bar sponsored by MEDEA Vodka, Tanteo, Chivas Regal, and Stella Artois. In 2010, Carbon supported charity: water through their Charity Soirée and has since made a commitment to spearhead at least one major philanthropic initiative annually. Tickets will be available for purchase starting in early March for $250 or VIP table service for $5,000 at AboutLincolnCenter.org/carbon-nyc.
Lincoln Center is a global leader in arts education, enhancing the education of underserved students in New York City and across the world. Lincoln Center Education widens access to the arts through unique and exceptional programs presented in schools and on Lincoln Center's campus, bringing the highest caliber of performing arts to the broadest possible audience.
Founded in 1995 by brothers Russell, Danny and Joseph "Rev. Run" Simmons, Rush Philanthropic is a 501c3 organization dedicated to providing public school students with invaluable arts education experiences, and empowering emerging underrepresented artists through exhibition opportunities at our two working galleries in New York City, Corridor Gallery and Rush Arts Gallery, our Rush programming includes our Rush Education Exchange and Artist in Residency.
Carbon is a New York based invitation-only social network of leaders in international business, politics, philanthropy and the arts. Criteria for Membership are outstanding professional achievement, a strong character and a demonstrated passion for non-work related pursuits, including the arts, philanthropy, technology, sports and leisure. The foundation of Carbon Membership is integrity and a commitment to actively participate in events and support other members professionally and personally. Carbon events give Members unique access to the best that New York City has to offer, while fostering personal and business relationships.
For inquiries, please contact:
Info(at)CarbonNYC(dot)com
Tel: 917-991-8243
###