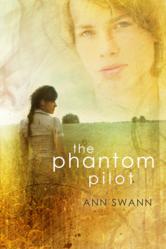 No matter what, you don't go inside the spooky old house. No matter who dares you, no matter what lures you. You do not go in.
Newport, RI (PRWEB) February 15, 2012
The book is available in e-book format at the publisher's website at http://www.coolwellpress.com as well as Amazon and Barnes and Noble.
When a plane crashes behind Jason Lee's house in 1969, he finds himself being haunted by the ghost of the pilot. Unable to communicate with the phantom pilot, Jase asks his classmate, Stevie, for help. He thinks she is brave because he saw her entering the local "haunted" house alone. Together, they discover a way to "talk" to the pilot by using headlines cut from old newspapers. They learn that the pilot's fiancée is the one whose spirit is trapped in the haunted house. Now they must find a way to free her from the malevolent spirit holding her captive so that she and the phantom pilot can cross over to the other side, together.
"I wanted to set a young adult ghost story in the small town of America's past," Swann says. "I ended up recreating the world of my youth, but I think readers of all ages will be able to identify with the brave, vulnerable characters whose struggles and hopes cross generational lines."
About Cool Well Press
Cool Well Press offers its readers a variety of genres including fantasy, mystery, science fiction, suspense, historicals, Young Adult, and non-fiction. Cool Well Press strives to bring you the best and brightest authors and stories that will touch your heart, open your mind, and keep you thinking long past The End. For more information, please visit Cool Well Press at http://www.coolwellpress.com. For the latest, follow @coolwellpress on Twitter.
###