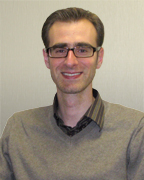 Reading, Pa. (PRWEB) February 08, 2012
Quadrant Engineering Plastic Products has promoted Koen Verhoeyen as its application development manager for Canada.
In this position, Verhoeyen will be responsible for material specification into new applications throughout critically defined markets resulting directly in new business growth for Quadrant and their key partners. In addition, he will support the Technical Sales/Service team for all of Canada. He will be based at the Quadrant QPC Plant in Guelph, Ontario, Canada, and will travel the Territories looking for new development opportunities.
For the past seven years, Verhoeyen has served in a number of roles at Quadrant.
Most recently, he was technical services engineer in its Technical Services Department at the facility in Tielt, Belgium. He was responsible for providing technical support related to Quadrant's plastics product portfolio to the company's worldwide sales force as well as its channel partners and OEMs.
Verhoeyen earned his Master of Applied Engineering degree in electro-mechanical engineering at the University College Ghent in Belgium. He currently resides in Guelph, Ontario, Canada, where he relocated in 2011.
Editors: hi-res images available
About Quadrant Engineering Plastic Products (EPP)
Quadrant Engineering Plastic Products range from UHMW polyethylene, nylon and acetal to ultra-high performance polymers that resist temperatures to over 800°F (425°C). The company's products are used for machined parts in food processing and packaging, semiconductor manufacturing, aerospace, electronics, chemical processing, life sciences, power generation and diverse industrial equipment. Quadrant EPP's products are supported by a global team of application development and technical service engineers.
Full support in evaluating designs and machining of parts is available from Quadrant Engineering Plastic Products' Technical Support Group. Learn more about Quadrant at http://www.quadrantplastics.com.
Registered trademarks of the Quadrant group of companies: Acetron, CleanStat, Duraspin, Duratron, Erta, Ertalyte, Ertalene, Ertalon, Extreme Materials, Fluorosint, Ketron, MC, Monocast, Nylatron, Nylasteel, Polypenco, Proteus, Sanalite, Semitron, Techtron, TIVAR and Vibratuf. Torlon is a registered trademark of Solvay Advanced Polymers.
###