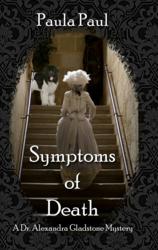 The dinner party was singularly unremarkable until the lunatic arrived.
Newport, RI (PRWEB) February 17, 2012
These books have been released simultaneously in traditional paperback and e-book formats and are available at the publisher's website at http://www.coolwellpress.com as well as Amazon and Barnes and Noble.
The stories feature Dr. Alexandra Gladstone who, in 1880, has taken over her late father's practice in the fictitious village of Newton-Upon-Sea. Besides battling the town's reluctance to accept a female practicing medicine, she also finds enough murder and mayhem in the surrounding area to keep her life interesting.
The first book in the series, entitled Symptoms of Death, as well as the second book, An Improper Death, and the third, Half a Mind to Murder were each on the Independent Mystery Book Sellers bestseller lists in the first month of their release.
"Fans of the series tell me they enjoy learning about the history of the era as well becoming engrossed in the mystery," Ms. Paul said. "And then there are the dog lovers who want to read about Zack, Dr. Gladstone's Landseer Newfoundland, since he loves to stick his nose into the murders."
Ms. Paul said she has found the comments fans have made about social issues interesting as well. "For example, in one of the stories Dr. Gladstone meets Florence Nightingale who was adamantly against vaccinations. I didn't take a stand one way or the other, but my readers were surprised to know Miss Nightingale was so outspoken against vaccinations."
"I'm very happy that Cool Well Press is reissuing the books in both print and electronic format," Ms. Paul said, "and I am particularly happy to be writing more books in the series."
About Cool Well Press
Cool Well Press offers its readers a variety of genres including fantasy, mystery, science fiction, suspense, historicals, Young Adult, and non-fiction. Cool Well Press strives to bring you the best and brightest authors and stories that will touch your heart, open your mind, and keep you thinking long past The End. For more information, please visit Cool Well Press at http://www.coolwellpress.com. For the latest, follow @coolwellpress on Twitter.
# # #