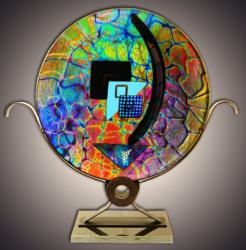 Scottsdale, Arizona (PRWEB) February 10, 2012
Thunderbird Artists festival will line the banks of Scottsdale Waterfront with renowned artists, fine wines and talented musicians. Visit Painters, sculptors, photographers, glass and gourd artists. Commission a custom painting, purchase exquisite jewelry and talk with artists about their work and creative process.
Our Featured artists are husband and wife team, Kathy & Rory Chetelat. Two fabulous artists who combine their talents in wood and metal work, with the beauty of their fused glass, to create stunning sculptural and wall hanging pieces you see today.
The Scottsdale Waterfront is a 1.1 million-square-foot project, located in downtown Scottsdale and home to the Fiesta Bowl headquarters and museum. Located between Scottsdale Fashion Square and Fifth Avenue and overlooking the Arizona Canal, Scottsdale Waterfront has become an established destination, contemporary boutiques, up to the minute fashion, local cuisine and fine dining, there is something for everyone. Come for breakfast and stay till diner!
Originally, the Hohokam people engineered miles of canals across the Phoenix valley from 500 to 1450 AD. Canals diverted water from Salt River to the Hohokam's farm fields. Archaeologists consider this ancient canal network to be one of the largest and most sophisticated irrigation systems ever created using only pre industrial technology. Century's later, European settlers used the Hohokam's long abandoned, but still standing, canals for their crops. Salt River Project cemented many of the Hohokam canals and uses them to this day delivering water across the region.
Festival hours are 10am to 5pm each day. Admission is $3.00 for adults. A souvenir wine glass together with tasting tickets can be purchased for a $10 fee. Parking is free all weekend and valet parking is available.
###