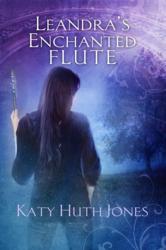 "All I can tell you is that you have to fight it in here." I tapped my head. "You have to believe you're going to beat it. Once you give up, it's over."
(PRWEB) February 17, 2012
The book has been released as an e-book and is available at the publisher's website at http://www.coolwellpress.com as well as Amazon and Barnes and Noble.
In the book, fourteen year old Lee Ann Graves has just finished chemotherapy when the Carolina wren who has sung outside her window during those long weeks reveals himself as Songcatcher from the magical land of Finian Jahndra. Songcatcher knows that Lee Ann's real name is Leandra and transports her and her flute to Finian Jahndra, which is dying because of a growing world-wide "canker."
Leandra is restored to health and her flute transformed by what magic is left in the world. But as she searches for the source of the canker, the malignant forces take their toll, not only on the land, but on Leandra's physical and mental well-being.
With the help of Songcatcher, other bird friends, including Windrider the noble eagle, an ostrich named Groundeater, Eyepecker the raven, and the very human Prince Aquila, Leandra must find a way to heal the land she has learned to love before it is too late.
Diane Bertrand, author of teen novels Trino's Choice and The F Factor, writes, "Katy Jones creates a thrilling fantasy, filled with feathered friends and a remarkable protagonist in Leandra. Readers can't help but leap whole-heartedly into this magical tale of suspense and surprise born from a wren's song and a flute with curative powers."
Leandra's Magic Flute is a fantasy filled with adventure, love and hope––a story to carry through a lifetime.
About Cool Well Press
Cool Well Press offers its readers a variety of genres including fantasy, mystery, science fiction, suspense, historicals, Young Adult, and non-fiction. Cool Well Press strives to bring you the best and brightest authors and stories that will touch your heart, open your mind, and keep you thinking long past The End. For more information, please visit Cool Well Press at http://www.coolwellpress.com. For the latest, follow @coolwellpress on Twitter.
# # #