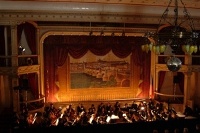 With Opera Circle, enjoy the splendor of quintessential Verdi in the historic Bohemian National Hall of Cleveland.
Cleveland, OH (PRWEB) February 10, 2012
A quintessential part of the opera canon, Giuseppe Verdi's "Il trovatore" will be performed February 17 and 19, 2012 by Opera Circle in Cleveland's Bohemian National Hall. In collaboration with the Cleveland Women's Orchestra under the baton of Robert Cronquist, the production will be fully staged, with sets, costumes, and English translation projected above the stage. Featuring the voices of Dominick Rodriguez, Dorota Sobieska, Brian Keith Johnson, Christina Carr, Jason Budd, Nicole Wong, Oswaldo Iraheta, Joel Rhoads, Philip Formes, and the Opera Circle Chorus under direction of chorus master, Jacek Sobieski, "Il trovatore" will once again reassert its place as a staple of operatic repertoire.
Follow the tragic love of the noble Leonora (Sobieska) and the troubadour Manrico (Rodriguez). Thwarted by the jealous Count di Luna (Johnson), its course commingles with the shifting fortunes of military legions caught in the conflicted feudalism of a turbulent medieval Spain, the deeply-felt piety of its religious orders, and the sinister tales of the elderly Captain of the Guard, Ferrando (Budd). Verdi's superb scoring and soaring melodies bring the story to an ultimate, dreadful cadence, but not without a stupefying plot twist orchestrated by the ancient Gypsy enchantress, Azucena (Carr).
Two performances only: Friday, February 17, 2012 at 7:30 p.m. and Sunday, February 19, 2012 at 3 p.m., both at the Bohemian National Hall, 4939 Broadway Avenue, Cleveland, OH 44127.
Tickets are $20 general admission and $10 for students, with reserved Sponsor Seats at $55. For reservations and information, call Opera Circle at (216) 441 2822 or e-mail tickets(at)operacircle(dot)org. A special bus round trip from The Beachwood Place to the performance is offered. Tickets will also be available at the door. For more details, visit http://www.operacircle.org or write to us at info(AT)operacircle(dot)org.
The programs of Opera Circle have been made possible through continued support from The Cleveland Foundation, The George Gund Foundation, John P. Murphy Foundation, Kulas Foundation, Cuyahoga Arts & Culture, Ohio Arts Council, National Endowment for the Arts, Northern Ohio Opera League, Neighborhood Connection, Polish-American Cultural Center JPII, Cleveland Society of Poles, & many other generous sponsors.
###