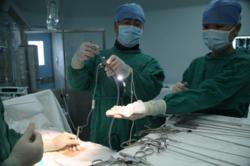 Edison, NJ (PRWEB) February 09, 2012
Kai-Xuan Liu, MD, PhD, founder and chief endoscopic spine surgeon of Atlantic Spinal Care, New Jersey, visited multiple hospitals and medical centers in Chongqing, Beijing, and Shanghai during his China trip on January 2-8, 2012. In addition to giving lectures to Chinese surgeons, chairing an international symposium on endoscopic spine surgery, Dr. Liu also performed endoscopic spine surgeries in Chongqing Medical Center and Beijing 304 Hospital.
Dr. Liu started his week-long China trip by visiting Chongqing Medical Center, where he is an honorary director. At the medical center, Dr. Liu was invited to perform 2 endoscopic lumbar spine surgeries. After the surgery, he further shared his surgical experience with the attending surgeons through discussions. While visiting Chongqing Medical Center, Dr. Liu also discussed with the leaders of the center about how to further their collaborations.
Immediately after his visit to Chongqing Medical Center, Dr. Liu flew to Beijing to visit Beijing 304 Hospital of People's Liberation Army and to attend an international symposium on endoscopic spine surgery. At Beijing 304 Hospital, Dr. Liu, again, was invited to demonstrate his advanced techniques of endoscopic spine surgery by performing a surgical procedure and answering many questions from the local surgeons.
Following his Beijing visit, Dr. Liu visited Shanghai Punan Hospital, where he delivered a presentation on advanced techniques of endoscopic spine surgery and their applications. The hospital's orthopaedic surgeons, residents, and surgeon assistants attended the presentation and participated in the following discussions.
A renowned leader in the field of endoscopic spine surgery, Dr. Liu has substantial experience in this rapidly developing field. He specializes in treating disc herniations, spinal stenosis, spondylolisthesis, failed neck or back surgery, and many other diseases and conditions in the cervical, thoracic, and lumbar spine.
At Atlantic Spinal Care, one of the best surgical centers devoted to endoscopic spine surgery in the US, Dr. Liu performs endoscopic spine surgery on a daily basis. During the past years, he and his colleagues have helped thousands of patients relieve back and/or neck pain caused by various spinal conditions.
With his deep roots in China, Dr. Liu cares about the millions of Chinese patients suffering from back or neck pain. He is passionate about providing highest quality of patient care, and he strives to bring his medical knowledge and advanced surgical techniques to China to help Chinese surgeons take care of their patients. To achieve his goal, he periodically visits hospitals in China and mentors young Chinese surgeons at his own medical facilities in the US.
###