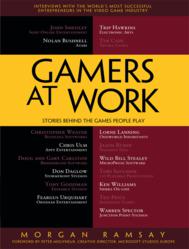 "We delivered games, and at times they couldn't find their way to the shelf. It had nothing to do with us." Lorne Lanning, cofounder of Oddworld Inhabitants
New York, NY (PRWEB) February 09, 2012
The business of gaming has ignited imaginations for decades, sparked controversy and has continued its cultural outreach spawning magazines, international conferences, university courses, and blockbuster movies. And now, for the first time ever, Apress author, Morgan Ramsay details the lives and struggles of some of the biggest names in the video game industry with his book, Gamers at Work: Stories Behind the Games People Play.
Was it pure passion that drove Atari cofounder, Nolan Bushnell into the business?; What were the highs and lows experienced by Electronic Arts founder Trip Hawkins? Gamers at Work, provides a fascinating peek into a gamers world and incorporates interviews and experiences of the founders of successful game companies such as Electronic Arts, Atari, Sierra Online, Appy Entertainment, and Bethesda Softworks.
"The worldwide video-game industry is in a state of enormous flux. Vast budget opuses, such as Activision's Call of Duty, sit alongside mobile phone games created by tiny two-man teams," remarked Peter Molyneux OBE, founder of Lionhead Studios and creative director at Microsoft Studios Europe, whose foreword introduces the book. Gamers at Work explores the motivations and psychologies of the entrepreneurs who pushed the video game industry forward, uncovering insights into the challenges of entrepreneurship in this volatile market. Every interview begins from the time before their stories took shape and takes you to the end of one journey and the start of the next.
Morgan Ramsay illustrates the history of the video-game industry through the perspectives of the developers and publishers who played a key role in its emergence and transformation. His work is aimed at software professionals, enterprising game developers, and those with a simple love of video game history. Ramsay enthralls readers with tales of tension and foresight in the fledgling days of the video game industry.
*ISBN: 978-1-4302-3351-0, Page Count: 356 pages

User Level: Beginner to Intermediate
Publication Date: Feb 8, 2012
Available eBook Formats : EPUB, MOBI, PDF
Print Book Price : $ $29.99
eBook Price: $20.99
About the Author
As a serial entrepreneur, Morgan Ramsay has significant leadership experience in the defense and entertainment industries. He is president and chief executive officer at Entertainment Media Council, the first and only association for entrepreneurs, C-level executives, and senior managers in the interactive entertainment business. Prior to that, Ramsay was president and chief executive officer at the ad agency Heretic. He led successful initiatives that recognized the men and women of the armed forces on behalf of the President of the United States, and launched technologies and services for clients ranging from non-profits and small businesses to the global Fortune 500.
About Apress Media
Apress Media LLC is a technical and business publisher devoted to meeting the needs of IT professionals, software developers, programmers, and business leaders with more than 1,000 books in print and electronic formats. Apress provides high-quality, no-fluff content that helps serious technology professionals build a comprehensive pathway to career success. For more information about the innovative approach Apress takes to publishing, please visit http://www.apress.com.
###