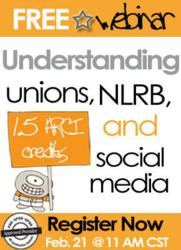 (PRWEB) February 09, 2012
With Facebook's IPO filing this week, Wall Street is abuzz about social networking. And chances are company offices are abuzz too, but not about the IPO. Americans are spending nearly 16 hours a month on the popular social networking site and companies have every right to be concerned as increased access to social networking increases risk, especially when it comes to your employees.
"Understanding Social Media, the NLRB, and Unions" is an upcoming webinar hosted by the leading global human resource blog, Blogging4Jobs.com. The webinar scheduled for February 21, 2012 from 11:30 to 12:30 PM CST includes leading human resources and employment law experts including Michael Vandervort, Social Media Director at Human Race Horses; Jon Hyman, Employment Law Attorney at Kohrman Jackson & Krantz; and Jessica Miller-Merrell, HR and Social Media Expert at Xceptional HR.
"Technology, particularly social media has made the working world a challenging place for business leaders, managers, and HR professionals who must balance employee freedom of speech, the company's employment brand, the potential for union organization, and recent activity by the NLRB and protected concerted activity as part of their daily work activities," saying Miller-Merrell.
The webinar discusses employee internet abuse as well as recent legislation surrounding social media, the NLRB, and strategies for how company leaders can maneuver and monitor employee activity on social networking sites. Learn best practices on how to manage and discipline employees, create policies, and awareness throughout organizations.
Learn how unions use social media to organize communicate, and leverage negative information against brands to make the company concede to union's demands and organization.  Discussions will be centered surrounding protecting the entire organization and going beyond technology to best practices for business executives, managers, as well as HR and how leaders should handle social media and its potential union and legal pitfalls.
Webinar is scheduled for February 21, 2012 from 11:00 AM. Registration is open to the public at Blogging4Jobs and attendees will receive 1.5 HRCI recertification credits.
About Jessica Miller- Merrell and Blogging4Jobs
Jessica Miller-Merrell, SPHR is an author, speaker, human resources professional, and workplace social media expert with a passion for recruiting, training, and social media.  Jessica is a leader in the HR community and has over 11 years of experience in human resources and recruiting.  Her book, quot;Tweet This!  Twitter for Business" was released in February 2010. Jessica is a columnist for publications including Fortune, SmartBrief, and HRO Today Magazine.
Keynote speaker, Jessica Miller has been recognized by human resource professionals for articulating social media as a means to HR development and has spoken in front of thousands on topics like human resources and recruiting.  Complete bio can be downloaded on Blogging4jobs.com.
This press release was distributed through PR Web by Human Resources Marketer (HR Marketer: http://www.HRmarketer.com) on behalf of the company listed above.
# # #