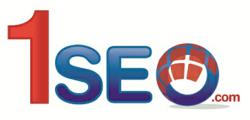 I believe that bringing in the talent first is important for the growth of any business.
Philadelphia, PA (PRWEB) February 13, 2012
On Wednesday February 1st 2012, Top SEOS, the Independent Authority on Search Vendors, released their February 2012 report on the Best Integrated Search (SEO & PPC) companies awarding 1SEO.com with the very coveted #1 spot. Ranking #1 amidst the top 30 SEO companies in the country, Lance Bachmann, founder and President of 1SEO.com, considers it to be a spectacular achievement.
Based in Levittown, PA, and founded back in 2009 by presenting local and national companies with provisions into online marketing by using Google, Bing, and Yahoo; 1SEO.com is a company that is actively involved in providing services such as search engine optimization (SEO), pay per click management (PPC), web design, web development, and social media optimization. In regards to their search engine optimization, 1SEO.com uniquely tailors each client's campaign to meet the needs of the client's goals. Since the company's start they have realized that no one SEO strategy can generate success for every SEO campaign that is thrown their way—customization of the client's campaign always reaps the most success and the highest ROI for each client.
Along with providing effective custom SEO services, PPC, and many others, 1SEO.com also makes the use of skilled and trained professionals who can manage a significant amount of operations in a timely and effective manner. In other words, they are the best at what they do. As Bachmann said it on the video played at the 2012 Philadelphia SmartCEO Future 50 Awards Gala held on January 13, 2012 in Drexel Hill, PA, "I believe that bringing in the talent first is important for the growth of any business." Bachmann's 1SEO.com was a winner in SmartCEO's "Emerging Growth Category." The SmartCEO Future 50 Awards Gala celebrates the Philadelphia area's 50 fastest growing companies based on employee and revenue growth over the past three years.
Apart from winning the SmartCEO and TopSEOs awards in January and February, 1SEO.com still manages to steadily maintain their client retention rate of 90%! One can probably say that bigger things are still sure to come for 1SEO.com.
By: Lora M. Novak
###