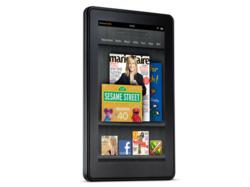 We see the drawing as a win-win for all involved—participants are receiving both the highest quality professional development online for educators available, and, in the process, entering for a chance to win a Kindle Fire
Salt Lake City, UT (PRWEB) February 08, 2012
Online PD developer, School Improvement Network (SINET), as part of its ongoing initiative to prepare 100% of students to be college and career ready, is offering free online professional development content to teachers. And, for the month of February, those who take advantage of SINET's professional development offerings will be entered in a drawing for a free Kindle Fire.
"As a thank you to the people who help move our cause along, we're giving away four (4) Kindle Fires in the month of February," says Cory Linton, vice president of SINET. "We see the drawing as a win-win for all involved—participants are receiving both the highest quality professional development online for educators available, and, in the process, entering for a chance to win a Kindle Fire."
The rules of the offer are simple. Every Wednesday in the month of February, one educator will have a chance to win any of the following four contests:

February 8: Sign up for a free 30-day trial of Common Core 360 and be entered to win! Click here to sign up for your free trial.
February 15: Write a guest blog post and receive an entire year's FREE access to Common Core 360. One lucky blogger will also receive a Kindle Fire! To request information about how to become a guest blogger, please email at Jared.Heath@schoolimprovement.com.
February 22: Watch and comment on the FREE PD 360 weekly video blog. Each video is available for one week, so check back each week for more! To view the online PD 360 video blog, click here.
February 29: Register for the Summit. Get early bird special pricing for the School Improvement Innovation Summit and Common Core Institute. All educators who register this month will be entered to win. To register for the Summit, click here.
Anyone can become a member of School Improvement Network's online professional development community of 822,000 educators for free, by signing up at http://www.schoolimprovement.com. To register for a free, 30-day trial of School Improvement Network's premiere, online professional platform PD 360, visit http://www.schoolimprovement.com/products/pd360.
About School Improvement Network
Founded in 1991 by teachers, the School Improvement Network provides comprehensive, research-based professional development anytime, anywhere. As the home of The Video Journal of Education, PD 360, Observation 360, the Learning 360 Framework, Equity 360, and Common Core 360, School Improvement Network resources focus on the most relevant topics, feature the top experts, and show educators how to put theory into practice. School Improvement Network works with thousands of schools and districts in every state and around the world and has visited over 3,500 classrooms to document best practices in action. Learn more at http://www.schoolimprovement.com.
About PD 360 • Practical, Scalable, Measurable
PD 360 is the multi-award winning, leading online, on-demand professional learning resource for schools and districts. With 1,800 videos on 117 topics from 120 experts, PD 360 has the largest online community of educators, with over 822,000 subscribers. The innovative PD 360 videos are unique and class-leading because of the quality of production, and each is research-based with classroom examples of best practices. The videos are also relatively short in nature (approximately 6-12 minutes in length) allowing educators access to "snack-able" content that is easy and accessible to view and implement.
Teachers, administrators, professional learning communities, coaches, mentors, instructional leaders, and paraprofessionals have available at their fingertips hundreds of indexed and searchable video segments that present real, best-practice classroom examples and feature respected education experts, such as Michael Fullan, Rick DuFour, Doug Reeves, Rick Stiggins, and many others. Educators can instantly find the help they need on nearly every topic, including differentiation, assessment, English language learners, leadership, and more. PD 360 can also be used to create a structured learning experience for an individual teacher, a PLC, or even an entire school. PD 360 bridges the gap between training and classroom implementation with job-embedded follow-up, tracking, and reflection tools. PD 360 gives educators access to an online community of teaching professionals that allows interaction and collaboration either within a district or across the United States and the world. PD 360 includes over 1,800 research-based video learning segments and is the most comprehensive web-based library of professional development resources available. See a demonstration at http://www.pd360.com.
School Improvement Network, PD 360, and their respective logos are trademarks of the School Improvement Network. All other trademarks and registered trademarks are the property of their respective owners.
Press Contact:
Duane Sprague
School Improvement Network
801-758-9546
duane.sprague(at)schoolimprovement(dot)com
###