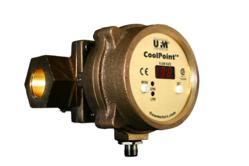 Hazel Park, MI (PRWEB) February 15, 2012
Universal Flow Monitors, Inc. announces the availability of CoolPoint™ vortex shedding flowmeters with Intrinsic Safety as an option. CoolPoint™ vortex shedding flowmeters are electronic instruments that measure and monitor water flows. Unlike mechanical switches, the vortex shedding meters have no moving parts to stick or coat, eliminating potential for clogging.
The Intrinsic Safety feature is available on ¼ inch, ⅜ inch, 1/2 inch, ¾ inch, 1 inch, 11/2 inch and 2 inch CoolPoint™ meters. The transmitter with Intrinsic Safety is a 2 wire 4-20mA transmitter that has approved barriers and no display, alarm or pulse output. It conforms to requirements for NEC Class I, Division 1, Group D environments.
The standard CoolPoint™ flow rate transmitter is a 4-20 mA 3 wire transmitter, which has the following standard feature and user-configurable options:
--Brass body with viton seals and PVDF sensors--Available in pipe sizes ranging from 1/4 inch to 4 inches
--Flow repeatability is +/- .25 percent (1/4 of 1 percent)
--+/- 2 percent full-scale accuracy at maximum flow
--Turndown ratio 10:1
--3 wire 4-20 mA flow rate transmitter with visual 3-digit LED readout, selectable alarm state (N.O. or N.C.), set point or pulse output and engineering unit choice of GPM or LPM.
Universal Flow Monitors makes the following additional options available on standard CoolPoint™ flowmeters:
--Totalizer that provides information on the amount of liquid used in the process. The totalizer features a pulse output, reset button, and six-digit LED display that can display liters or gallons.
--Stainless steel (higher cost) or PVC/CPVC bodies (lower cost)
--Flow and temperature transmitter
--20:1 turndown ratio available in most popular sizes
Universal Flow Monitors, Inc. has manufactured flowmeters for a variety of industries for more than 30 years. The company can be reached at (248) 542-9635 or at ufm(at)flowmeters(dot)com.
###