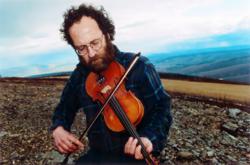 "I think the 'Anchorage Daily News' said it best. They called the evening haunting and melodic."
Edwardsville, IL (PRWEB) February 10, 2012
Ken Waldman—Alaska's "Fiddling Poet" whose show has been compared with a "Ken Burns movie"—will continue the 2011-12 season of Southern Illinois University Edwardsville's Arts & Issues series Feb. 22, in SIUE's Meridian Ballroom.
"Ken Waldman and the Secret Visitors: From Madison County to Moose Pass" is set for 7:30 p.m. that Wednesday as the group transports the audience to the grandeur of Alaska through poetry, storytelling, traditional music and dance.
The concert is co-sponsored by the SIUE Department of English Language and Literature. Waldman will also be doing outreach on campus through the department and its creative writing program.
This one-time only concert will include the North Carolina duo Appalachian Roots, featuring Ira Bernstein and Riley Baugus; East Tennessee banjo player and singer Allison Williams; Nashville mandolin player, David Long; Cajun fiddler, David Greely; Austin, Texas, banjo player and fiddler Jerry Hagins; as well as Chicago fiddler, guitarist and banjo player Jordan Wankoff.
For more than 25 years, SIUE's Arts & Issues series has brought great performers and distinguished speakers to Southwestern Illinois.
The official media sponsors for A&I are the Edwardsville Intelligencer and KWMU-FM, while the series official hotel sponsor is Hampton Inn and Suites. The 2011-12 Arts & Issues season is partially supported by a grant from the Illinois Arts Council, a state agency.
Arts & Issues Director Grant Andree said Waldman and his friends bring an exciting presence to the stage. "I think the 'Anchorage Daily News' said it best," Andree said. "They called the evening haunting and melodic."
Waldman will introduce the opening sets with a brief poem, then he will let the musicians take off. For his own concluding set, Waldman promises a full-blown Edwardsville music party, complete with Ira Bernstein's clogging. Andree said the evening of variety will appeal to anyone who enjoys traditional music, powerful singing, exciting dancing, smart poetry, acclaimed storytelling or Alaska.
Tickets for the Feb. 22 "Ken Waldman and the Secret Visitors: From Madison County to Moose Pass" concert are available through the website: artsandissues.com or by calling the SIUE Fine Arts box office, (618) 650-5774.
The 2011-12 Arts & Issues photos suitable for print are available at http://www.siue.edu/artsandissues/PhotoIndex.shtml
Other Arts & Issues events for 2011-12 series season include:
Nrityagram Dance Ensemble of India Presents Sambhavya—Friday, March 16, 2012, 7:30 p.m., The Wildey Theatre in downtown Edwardsville
The beauty and tradition of classical Indian dance honed to near perfection will be on display when the Nrityagram Dance Ensemble performs for the Arts & Issues series at the newly renovated, historic Wildey Theatre in downtown Edwardsville. Nrityagram was founded in 1990 near Bangalore as a total immersion dance community, and is considered one of the foremost dance companies in India.
The Combined Orchestras of Southern Illinois University Edwardsville and SIU Carbondale, featuring violinist David Kim, concertmaster for the Philadelphia Orchestra—Wednesday, March 28, 2012, 7:30 p.m., at the theater in SIUE's Dunham Hall.
Sponsored by Commerce Bank
The orchestras of both Southern Illinois University main campuses will be combined for one exciting evening, featuring David Kim, a native of Carbondale who has been concertmaster for the Philadelphia Orchestra since 1999. Kim's numerous solo engagements around the world have included the orchestras of Dallas, Pittsburgh, Capetown, KBS (Korea) and Moscow, as well as the Buffalo and Seoul philharmonics, the Polish National Radio Orchestra, the Metamorphosen Chamber Orchestra and numerous orchestras across North, Central and South America.
Arts & Issues and the SIUe Xfest welcome
The Squonk Opera presenting Edwardsville: The Opera—Wednesday, June 6, 2012, 7:30 p.m., the theater in SIUE's Dunham Hall
Sponsored by the SIUE Credit Union
Squonk Opera is a multimedia performance troupe from Pennsylvania, "Edwardsville: The Opera" is part of its "hometown opera" series. Squonk will weave hometown documentation and video with its original musical score, providing a heartfelt toast and punk-vaudevillian roast to our city at the same time. While highlighting the distinct characteristics of each community, This avant-garde group's unique performances combine music, sound and image with innovative video, slapstick comedy and unexpected surprises. Squonk Opera has performed on Broadway, in Europe and South Korea, across the United States, and in a Pittsburgh junkyard with earthmovers and choreographed cranes.
Arts & Issues is a series of distinguished speakers and performers that supports the academic mission of the University. Students meet and discuss issues with renowned speakers in workshops, dinners, receptions and classes. Students in music, theater and dance work directly with visiting artists in master classes. Arts & Issues also gives students opportunities to gain experience in special events production, administration, fundraising and development.
SIUE offers the advantages of a small, liberal arts college with the low tuition rates of a state university. Our emphasis on undergraduate education, complemented by faculty research, creates practical applications for student learning. Located in the second most populated area of the state, this Illinois university draws students from all 102 Illinois counties, 42 states and 50 nations.
The SIUE College of Arts and Sciences combines foundational education with diverse and highly-specialized coursework. Faculty help students explore diversity of ideas, experiences and people while learning to think and live as fulfilled, productive members of a global society. The College offers 44 degree programs in the arts, humanities and social and natural sciences.
###