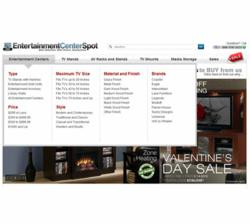 People want a quick, simple and secure online shopping experience and that is what our redesigned website gives them.
Golden, CO (PRWEB) February 21, 2012
As the world gets more complicated and daily life gets busier, website users have less time and patience for difficult navigation. According to the website experts at Bermedia, only 14 percent of website users read every word on the page. Entertainment Center Spot, respected purveyors of wall entertainment centers and TV stands, is rising to this challenge with a redesigned website that is informative, interactive and user-friendly.
"People don't have the time or energy to surf through complex set-ups and click into dozens of sub-categories," states Bruce Tucker, VP of Marketing for Entertainment Center Spot. "People want a quick, simple and secure online shopping experience and that is what our redesigned website gives them." Simplified categorization is only one of the new features to be found at EntertainmentCenterSpot.com. Consumers new to purchasing entertainment centers may have immediate questions, such as how to measure their space for a corner TV stand. The updated website allows them to engage in live chat with a consultant who can walk them through the process in real time.
To go with their clean new logo, EntertainmentCenterSpot.com also provides clearer, sharper images of their products. The zoom feature allows users to focus in on details, helping them to decide which style and finish of a Lane entertainment center, for example, will fit their décor. Links to other InteriorMark websites and integrated swatch palettes allow shoppers to match home theater seating and other furniture with their entertainment centers. These newest innovations from Entertainment Center Spot allow consumers to use up-to-the-minute technology to purchase timeless quality under a clean, new logo.
About EntertainmentCenterSpot.com - EntertainmentCenterSpot.com is a division of InteriorMark, LLC, who is the market leading retailer of home theater furniture products, entertainment furniture, massage chairs, sofas and sectional sets and bedroom furniture. The company offers a wide range of products and services designed to enhance and decorate a living room space or dedicated home theater environment. InteriorMark is a member of the National Home Furnishing Association, and is proud to be a member of the Better Business Bureau.
###