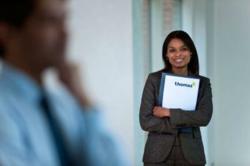 Toronto, Ontario (PRWEB) February 09, 2012
Thomas Awards of Excellence 2012 are now open for entries. The Thomas Awards of Excellence recognize clients who have excelled at driving business value with Thomas' products and services. Clients are invited to submit their entries for consideration starting today until September 30th, 2012. Full details and submission guidelines are available on the Thomas Awards of Excellence website.
Business awards offer businesses of all sizes and levels insight into their company. Simply looking through an award application can highlight potential areas for improvement or offers a chance to look back at what you have achieved in detail. It can also be an opportunity to freshen up a business plan, processes, competencies and set new goals based on your past.
The Thomas Awards of Excellence will be judged by a Panel of Experts, comprised of senior strategic business leaders. The judges will assess entries and select a first, second and third place winner. In particular, the judges will be looking for evidence of the following: overall project goals; the process used; the impact on stakeholders; increased visibility of the department or team; outcomes and achievements using the Thomas products and services. The awards luncheon will be held on Tuesday, December 4th, 2012 at the Fairmont Royal York Hotel in Toronto, Ontario, Canada. 
"Our Awards of Excellence offer a unique opportunity for Thomas to honor its clients for their continued innovation and their dedication to talent management and driving business value," said Merle Ballaigues, President of Thomas International North America. "The awards will help showcase the creativity, dedication and success that our clients have had using the Thomas tools and solutions. We are eager to celebrate these successes with our clients at the awards luncheon in December." 
For more information, visit http://www.thomasus.com/awards.
About Thomas International: Thomas International is a global provider of objective management systems and work-based assessment tools. With over 30 years of experience, we enable organizations to recruit, retain, develop and manage their people effectively. Our experienced team of consultants and advisors support clients to achieve outcomes of reduced attrition, higher employee productivity and engagement, and more effective leadership – positively impacting the bottom line. For more information, visit http://www.thomasus.com.
Media Contact:
Tori Miller, Thomas International
1-888-597-6455
tmiller(at)thomasus(dot)com
This press release was distributed through PR Web by Human Resources Marketer (HR Marketer: http://www.HRmarketer.com) on behalf of the company listed above.
###