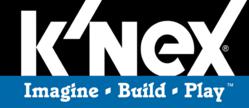 Hatfield, PA (PRWEB) February 09, 2012
K'NEX Brands, the US construction toy company focused on Building Worlds Kids Love™, is pleased to expand its officially licensed NASCAR- building toys product line with new building sets that let young race fans expand their high-speed world. Like the first K'NEX NASCAR building sets that debuted in early 2010, the new building sets include American made K'NEX rods & connectors, the most popular cars & drivers of NASCAR, including the newest driver to be added to the collection – Jimmie Johnson and his No. 48 Lowe's® car, and feature cool new paint schemes.
NASCAR Micro-Scale Car Assortment #3
Kids ages 5+ will enjoy the latest edition of these easy to build micro-scale versions of their favorite NASCAR driver's car, complete with updated paint schemes. Cars are packaged two to a set for head-to-head racing fun! Sets include: Dale Jr.'s 88 National Guard™ vs. Jeff Gordon's 24 Drive to End Hunger™, Joey Logano's 20 The Home Depot® vs. Kyle Bush's 18 M&M'S®, and a new addition to the line up - Jimmie Johnson's 48 Lowe's® vs. Dale Jr.'s 88 Amp Energy®. Sets also include 28 pieces and step-by-step building instructions. Suggested retail price: $6.99. Available spring 2012.
Motorized NASCAR Car Assortment
Young NASCAR fans better buckle their seatbelts because K'NEX NASCAR Car Building Sets now include motors for real racing action! Each set allows kids to build, and race, one of their favorite teams and drivers--choose from No. 88, No.24, No.18 & No.48. In addition to the battery-operated high-speed motor the set also includes a K'NEXman in the driver's likeness, authentic logos and step-by-step building instructions. Batteries not included. Suggested retail price: $16.99. Available fall 2012.
All NASCAR sets are appropriate for children ages 5 and up. Each package includes the official NASCAR hologram and step-by-step building instructions.
About K'NEX Brands
Founded in 1992, K'NEX Brands, the world's most innovative construction toy company, was established to make and sell what has become one of the world's leading integrated construction systems for children. Winner of over 200 international awards and recognitions, K'NEX is America's building toy company focused on Building Worlds Kids Love, and encourages youngsters to "imagine, build and play." For more information, please visit http://www.knex.com.
About NASCAR
The National Association for Stock Car Auto Racing, Inc. (NASCAR) is the sanctioning body for one of North America's premier sports. NASCAR is the No. 1 spectator sport – with more of the top 20 highest attended sporting events in the U.S. than any other sport, and is the No. 2 rated regular-season sport on television. NASCAR races are broadcast in more than 150 countries and in 20 languages. NASCAR fans are the most brand loyal in all of sports, and as a result more Fortune 500 companies participate in NASCAR than any other sport.
NASCAR consists of three national series (the NASCAR Sprint Cup Series™, NASCAR Nationwide Series™, and NASCAR Camping World Truck Series™), four regional series, and one local grassroots series, as well as two international series. Also part of NASCAR is Grand-Am Road Racing, known for its competition on road courses with multiple classes of cars. NASCAR sanctions more than 1,200 races at 100 tracks in more than 30 U.S. states, Canada and Mexico. Based in Daytona Beach (Fla.), NASCAR has offices in New York, Los Angeles, Charlotte (N.C.), Concord (N.C.), Conover (N.C.), Bentonville (Ark.), Mexico City, and Toronto.
###