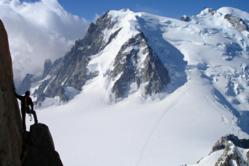 No question the Suunto Ambit opens up a whole new frontier for outdoor endurance athletes.
Bozeman, MT (PRWEB) February 09, 2012
The Suunto Ambit GPS watch has got the outdoor community all abuzz and the question is why? Quite simply, at 50 hours of battery life it offers more than three times the duration of its nearest competitor.
"No question the Suunto Ambit opens up a whole new frontier" says Rusty Squire, President of the Heart Rate Watch Company. He continues, "Having 50 hours of battery life opens this device up to multiple day mountaineering expeditions, ultra-marathon runners, 24 hour mountain bikers and a host of users that needed more than 15 hours of battery life from their GPS instrument."
The Suunto Ambit comes in two styles, a black and a silver, and includes features such as a 3-D compass, barometric altimeter, temperature and complete functionality as a heart rate monitor. The Ambit can display speed and distance in real-time and geo-cache way points so it can be used to navigate in situations where visual cues are not available.
For ultra-runners, mountaineers, endurance cyclists, skiers, back country skiers and many other outdoor athletes the Ambit bridges the gap in battery life that allows the device to have full utility for extended adventures.
The watch also comes with a download cable that allows it to download data directly into Suunto Movescount, which is a free online training software that was developed by Training Peaks, one of the most respected developers of endurance athlete software.
"The Ambit offers incredible functionality in very durable package that has a sense of style that few sports watches have ever displayed" states Squire. He continues, "You could wear this watch to summit Mount Everest and wear it to the Royal Coronation because it fits both settings."
The new Suunto Ambit will be available beginning the first week of March in 2012. The model with heart rate will retail for $550 and the model without the heart rate strap will retail for $500. Both models will come with a PC data transfer and charging cable.
"We've got our company's back country test pilot John Yarrington all ready to go and he's fired up to test this watch" says Squire. Given the 10,000 vertical feet Yarrington often climbs in a day on skis he should be a good test pilot. "Last summer he climbed Montana's tallest peak, Granite Peak, in one day covering 26 miles and over 7,000 feet of elevation gain, including some technical climbing, all during day light hours with Alex Lussier - the guys an animal." states Squire.
###