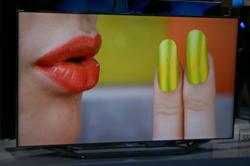 for simplicity sake we have limited this selection to only LED-LCD TVs and excluded plasma technology from the comparison
Atlanta, GA (PRWEB) February 14, 2012
Editors from LCDTVBuyingGuide.com Jack Burden and Robert Wiley choose from LED-LCD TVs introduced early in 2012 by manufacturers such as Sony, Sharp, Samsung, LG, Panasonic, Vizio and Toshiba. "There is no secret to us where the best value plays will be in the under 60 category," states Robert Wiley. "We review so many TVs and know the manufactures so well that we know where the best deals will be. But for simplicity sake we have limited this selection to only LED-LCD TVs and excluded plasma technology from the comparison."
One of the top models selected for the list is the Samsung UN55ES6500 LED TV about which editors state, "Samsung is very proud of the vast array of Apps they are now providing and the Samsung UN55ES6500 has access to them all. There are over 1500 Apps – most of them small and priced between .99 and $2.99. Aside from that the usual premium channels options are also incuded. There is a new Search All feature to allow you to find videos via Apps or other connected devices as well. Social media hookups like Facebook and Twitter are of course present." Editors note the price should also be very good as this model sheds a few of the more expensive ones.
Another model from the authors selection in the 55" size range is the LG 55LMG860 55" LED TV which includes Google TV.. "The G in LG new LMG860 series stands for Google, more specifically it indicates that alongside the Smart TV feature found in other LG televisions the new LMG models also add the functionality of Google TV and it's search, web browsing and other features."
LG had another entry into the list with the LG 55LM6700 for which the authors comment, "The LG 55LM6700 also has the modernistic avante-garde design that leaves nothing but the picture image in front of you. That's due to the .2" (5mm) depth and virtually no frame. You will not have to worry about reflection from the TV bezel – something that has annoyed us especially from black gloss bezels of the past. We hate to mention another manufacturer, but it's similar though less deep to the D8000 series LED Televisions by Samsung last year."
The Sharp LC-60LE745U Review series was the only 60" size TV to make the list while a second Samsung UN55ES6100 LED TV Review also made this list. According to the reviewer, "The incumbent clear coat screen technology that the UN55ES6100 contains is one of our favorites for 2012. We enjoy the depth perception it creates and black levels and contrast while allowing whites to really peak out. Brightness and peak whites are also exceptional traits."
About CEAG Inc.
Consumer Electronics Advisory Group Inc. operates several premier buying guide websites, including plasmatvbuyingguide.com, lcdtvbuyingguide.com, and 3d-tvbuyingguide.com among others. Online since 1999, the company provides objective and thoroughly researched information through professional reviews performed by seasoned reviewers. Editors Robert Wiley and Jack Burden have been reviewing televisions since the first commercial plasma TVs hit the market in year 2000. ISF calibrator John Wirtz has been calibrating televisions professionally for 10 years. The company adheres to strict testing guidelines using the highest caliber equipment. Company web sites have more than 15 million unique visitors each year in the fast growth consumer electronics industry.
###