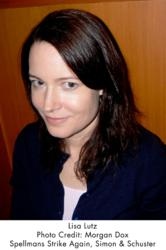 St. Louis, MO (PRWEB) February 13, 2012
The St. Louis County Library Foundation and Left Bank Books are pleased to present the funniest lady in suspense fiction, Lisa Lutz, for a discussion and signing of "The Trail of the Spellmans," a new installment in the hilarious and unconventional series about an eccentric family of private investigators.
The event will take place on Monday, March 12, at 7:00 p.m. at Library Headquarters, 1640 S. Lindbergh Blvd. The program is free and open to the public. Books will be available for purchase at the event from Left Bank Books.
New York Times bestselling author Lisa Lutz presents the highly anticipated fifth novel featuring fearless private investigator Izzy Spellman and her quirky, yet endearing, family of sleuths.
For the first time in Spellman history, Izzy might be the most normal member of her family. Mom has taken on an outrageous assortment of extracurricular activities—with no apparent motive. Dad has a secret. Izzy's brother and sister are at war—for no apparent reason. And her niece keeps saying "banana" even though she hates bananas. That's not to say that Izzy isn't without her own troubles. Her boyfriend, Henry Stone, keeps wanting "to talk," a prospect Isabel evades by going out with her new drinking buddy, none other than Gertrude Stone, Henry's mother.
Things aren't any simpler on the business side of Spellman Investigations. First, Rae is hired to follow a girl, only to fake the surveillance reports. Then a math professor hires Izzy to watch his immaculate apartment while he unravels like a bad formula. And as the questions pile up, Izzy won't stop hunting for the answers—even when they threaten to shatter both the business and the family.
Lisa Lutz is the author of the New York Times bestselling, Edgar- and Macavity-nominated, and Alice Award-winning Spellman Series. She is most recently the author of "Heads You Lose," co-written with David Hayward.
Program sites are accessible. Upon two weeks notice, accommodations will be made for persons with disabilities. Contact St. Louis County Library by phone 314-994-3300 or visit http://www.slcl.org.
###