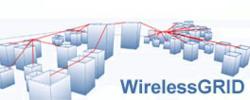 We are very pleased with the installation and performance of AIRAYA WirelessGRID-300 and WG-300S radios for a municipal video/solar project we just completed. The product worked as advertised.

Warren Hackbarth - Partner SurveillanceGRID.com
Morgan Hill, CA (PRWEB) February 09, 2012
AIRAYA WirelessGRID-300 and WG300S multipoint radios are being deployed in applications that range from military, government and 4.9GHz Public Safety networks to WISP backbones and carrier backhaul infrastructure. By combining our very high speed, low latency architecture with firmware features designed specifically to enhance video and IP voice performance and reliability, our new multipoint systems are being deployed in both new wireless video surveillance systems. They are also being deployed as cost-effective, high-performance upgrades to the older 802.11A, B, and G networks in secure corporate, education and government networks.
"Our customers have asked us to provide very high performance wireless networks for both multipoint and backhaul/point to point deployments. Multipoint versions of our WirelessGRID-300 and WG300S products allow us to fulfill these customer requirements. Combined with our free technical design services, we are providing a complete solution and support for our customers with best in class capabilities." said Mike Nydam President and CEO of AIRAYA.
WirelessGRID-300 and WG300S multipoint systems are available now in the following configurations
Outdoor Base Station (BSU), Outdoor Subscriber Unit (OSU) with Integrated antennas, Outdoor Subscriber Units (ONSU) with external antenna connections for use with high-gain antennas. All models ship with built-in support for industry-standard Gigabit PoE (802.3AT) allowing easy integration to networks.
Additional outdoor/mobile models include the outdoor Solar Subscriber Unit (SSU) for use with external antennas and the Mobile Subscriber Unit (MSU). Both models support voltage input of 8-30 VDC.
About AIRAYA
Founded in 2001, AIRAYA develops, manufactures and markets high-performance 4.8GHz to 6.1GHz wireless multipoint and backhaul solutions for military, government, public safety and commercial broadband wireless markets. In addition, AIRAYA develops and markets industry-leading secure multipoint wireless video camera systems for outdoor installations.
AIRAYA is located in Morgan Hill, California, USA with a sales and technical office in Singapore and is privately held. With more than 30,000 systems deployed in more than 100 countries worldwide, AIRAYA products are available through a worldwide network of quality distributors and resellers.
###