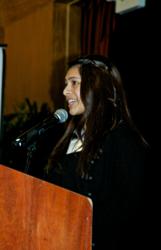 The business luncheon, hosted by Immaculate Conception Academy, had a sold-out crowd of 220 guests representing over 85 businesses.
San Francisco, CA (PRWEB) February 09, 2012
On February 2, 2012, Immaculate Conception Academy hosted its 2nd Annual Women's Business Luncheon: EDUCATE | EXPERIENCE |EMPOWER, at The City Club in downtown San Francisco. The purpose of the event was to honor professional business women in the Bay Area who serve as role models for the students of ICA and women everywhere.
Over 85 companies were represented at the event. Event sponsors included Kaiser Permanente, Union Bank, Stonehouse California Olive Oil, Taft Street Winery, Credo Restaurant, and Nancy and Kyle Kirwan. ICA corporate sponsors present at the event included University of California, San Francisco; Iteon Consulting; Kaiser Permanente; KeyBank Capital Markets; Morrison Foerster; Coblentz, Patch, Duffy & Bass; Academy of Art University; The Brandi Law Firm; N.F Stroth & Associates; California Pacific Medical Center; and First Republic Bank.
With a sold-out crowd of 220 guests, ICA was honored to have Betsy Rafael, Vice President Corporate Controller and Principal Accounting Officer of a major Silicon Valley technology company, share from her experience working in the corporate world. Betsy emphasized "treating others the way you would like to be treated," as well as highlighting "the importance of diversity in the workplace to access a broader set of viewpoints."
Paola Lopez, ICA Class of 2012, shared her experience at ICA and participation in the Corporate Work Study Program. She honored her parents, who attended the event, her supervisor, Laura Young from UCSF, and her fellow ICA students.
For more information about the Corporate Work Study Program or to learn about future ICA events, please contact Katie Mayberry, Marketing and Event Specialist for ICA, at (415) 824-2052 ext. 40.
About ICA
Immaculate Conception Academy, a Catholic college preparatory school, educates young women for a life of faith, integrity and service. As a Cristo Rey school in the Dominican tradition, they are committed to providing both excellent education and meaningful corporate work study experiences to students of limited financial resources. Learn more about ICA at http://www.icacademy.org. Learn more about Cristo Rey at http://www.cristoreynetwork.org.
###