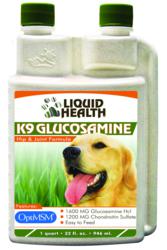 glucosamine and chondroitin are an easily absorbed natural substance that may stimulate the production of proteoglycans which help maintain the health and resiliency of joints and connective tissues
Murrieta, CA (PRWEB) February 13, 2012
Liquid Health™ has garnered an "A" grade from NASC (National Animal Supplement Council) for the quality of its pet supplements. The company now supplies glucosamine for dogs which are food supplements in liquid form, scientifically proven to absorb more easily and efficiently than tablets offering faster and much better results. Dogs easily develop joint mobility problems of different sorts. Dave Rigby, Liquid Health's nutritionist has said, "glucosamine and chondroitin are an easily absorbed natural substance that may stimulate the production of proteoglycans which help maintain the health and resiliency of joints and connective tissues."
Liquid Health, Inc. was founded in 1991. Since then, it offers the most comprehensive line of liquid nutritional supplements available in the market. It is committed to designing and supplying the highest quality liquid supplements that meet or exceed industry standards for natural supplements. The company produces both human and animal products. In the line of pet nutrition, Liquid Health offers K9, equine, and feline products formulated to be the best supplements for pets.
Liquid Health's Glucosamine for dogs speaks for itself when it comes to quality, value, and effectiveness. For more details about Liquid Health, Inc. and the supplements they offer, visit them at http://www.liquidhealthpets.com or call 800-995-6607.
###