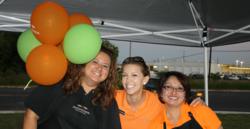 With our many new partnerships,
Generations is growing at a tremendous rate. So we need to recruit top-notch individuals to deliver the exceptional service that we are known for
San Antonio, TX (PRWEB) February 09, 2012
Generations Federal Credit Union will host a job fair from 9 a.m. to 2 p.m. on Wednesday, February 15 at their Northwest Branch located at 6000 N.W. Loop 410. The 72-year-old credit union is currently recruiting for experienced Senior Consumer Loan Underwriters, Home Equity Processor/Team Leaders, Lending Call Center Representatives and Collections Representatives. Individuals who are interested in attending should bring their resumes and should come prepared to interview. For additional information visit http://www.mygenfcu.org/careers.
"With our many new partnerships and opportunities, Generations is growing at a tremendous rate," said Generations Federal Credit Union Vice President of Human Resources Angela Howorth. "In order to continue to deliver the exceptional service that Generations has become known for, we need to recruit top-notch individuals who understand the value of credit unions and the positive impact that they have on the lives of not just our members, but our entire community as well."
Senior Consumer Loan Underwriters must have a minimum of five years of underwriting experience in a consumer lending environment as well as supervisory experience. Home Equity Processors/Team Leaders must possess a minimum of five years of experience in home equity lending with a financial institution and supervisory experience. Collections Representatives must have two years of collection experience with a financial institution and Escrow Specialists must possess two or more years of experience in mortgage servicing, running annual escrow analysis reports and analyzing escrow accounts. Additionally, they must also have one year of experience in a loan servicing position working with real estate secured loans.
Generations Federal Credit Union was named as a Top Place To Work by the San Antonio Express-News in 2010 and 2011, and as a Best Place To Work by the San Antonio Business Journal in 2011.
"Our programs and services have been recognized throughout the years on a local, regional and national level. So as we recruit additional staff members, we are looking for people who want to join a dynamic work environment of people who are dedicated to doing the right thing for our community," concluded Howorth.
###