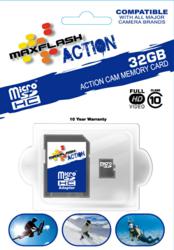 Malvern, PA (PRWEB) February 09, 2012
SportHiTech today announces immediate availability of the new MaxFlash Action high-speed, high-capacity SDHC and microSD memory cards specifically designed and engineered for the highly successful new breed of High Definition (HD) wearable action cameras.
Helmet Cameras and mountable or wearable cameras from many vendors are becoming increasingly popular in action sports, as well as with other sectors such as corporate and government. These new products provide rugged, high-speed and high-capacity memory that exceeds all specification requirements of any action camera currently on the market.
The cards are available in both 16GB snd 32GB capacities, and in both SDHC and microSD formats, and can record to full HD 1080p and beyond.
The MaxFlash Action cards are Class 10 - the fastest Class of SD and MicroSD cards on the market, and are made to meet highest quality standards.
In addition, all MaxFlash Action memory purchased from SportHiTech has a full 10 year manufacturer warranty.
MaxFlash Action cards are available now from SportHiTech at http://www.sporthitech.com
###