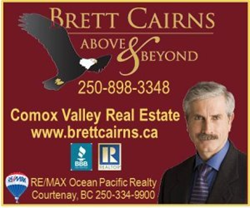 Good enough is not good enough when it comes to helping clients achieve their goals.
Comox, British Columbia (PRWEB) February 10, 2012
Brett Cairns, a Comox Valley real estate agent with RE/MAX Ocean Pacific Realty in Comox, British Columbia knows that it is important to be innovative, relevant, and to set high standards in order to excel. Brett has never been the type of guy who likes to sit back and wait for opportunities to come his way. He sought out and contracted a top real estate marketing firm in California to bring a new approach and a new level of marketing to the Comox Valley to provide his clients peace of mind when selling their homes. Good enough simply is not good enough for Brett when it comes to helping other people realize their goals.
Brett understands the importance of trust in relationships and he understands that the selection of a real estate agent is a personal and important decision. Accordingly, Brett enlisted the help of marketing experts to produce a personal brochure for him with which he gives people a sense of who he is as a person. This approach is new among real estate agents in his area. Brett believes that when people are better informed, they will make more knowledgeable decisions about who they hire to represent them with their most expensive investments – their homes.
Besides taking this new approach, Brett completed advanced real estate marketing courses with this firm to take his marketing to a new level. Having completed this training, Brett is now implementing a new, sophisticated and integrated approach to marketing Comox Valley homes. While he realizes that some traditional methods still work, Brett has learned how newer ones will help his clients when selling Comox Valley real estate. He is now in the process of implementing these cutting edge 21st Century real estate strategies and methods for the benefit of his clients.
Brett understands that selling homes in today's competitive marketplace involves much more than merely listing and advertising homes. The market changed significantly after Comox Valley home sales dropped by over 30% in 2008 and remained at those levels through Dec 2011. In 2012, with financial concerns worldwide that are adversely affecting real estate markets, there is a need to adapt effectively to changes in the market place to stay effective in today's highly challenging real estate market. Moreover, Brett understands the need to have the right information and insight before you buy or sell real estate.
Through more than 35 years of experience as a professional, Brett learned how important it is to have a people first approach to service. This means listening carefully to understand what matters most to his clients and then putting his business and people skills to work throughout the real estate process. For Brett, it also means providing his clients with the information and attention to detail necessary to provide them with a degree of comfort and peace of mind when making real estate decisions. Through more than 30 years of experience in leadership roles, Brett learned what it took to treat people right and guide the way to quality results. These traits are vital to his success as a real estate professional.
REMAX Ocean Pacific Realty opened for business in the Comox Valley in 1987. The company first attained top market share in the area in 1996, a position that it held last year. Today, it operates two offices in the Comox Valley - one in Courtenay and one in Comox.
For more information on how Brett is implementing this new approach and delivering this new level of real estate service, visit his website. For additional information, follow Brett on Facebook, Twitter, You Tube, Linked In and Google +. Brett's residential real estate services business is accredited by the Better Business Bureau.
# # #