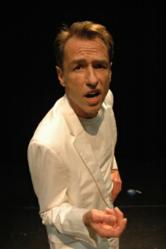 Boulder, CO (PRWEB) February 09, 2012
GMD Productions presents "Black & White", an original one-man show by Gabriel Masson at The Dairy Center for the Arts in Boulder, Colorado. With Masson's unique mix of wit, sex, audacity and popular culture, "Black and White" upends the traditional coming of age story through the use of text, dance, song and video to trace this at times hilarious, heart-wrenching and poignant journey from boy to man.
Known for his keen ability to find meaning in the most unlikely of sources, Masson is a visionary director and choreographer on the cutting edge of redefining performance art who has been called "breathtaking" by the New York Times. Assisting him with the production are video artist Tara Rynders, light designer Craig Bushman and costume designer Clare Henkel.
"This piece has been quite a journey," said Masson. "I'm grateful to my collaborators – they've pushed me to new places as an artist, especially with technology. And it's been great working with the folks at the Dairy – it's a wonderful venue that showcases some of the most cutting-edge work in the U.S. and I'm thrilled to be premiering this new piece here."
"We're very excited to have Gabriel Masson's new show as part of our winter season," said Deven Shaff, Operations Manager of The Dairy Center. Nationally recognized for presenting original art and performances, The Dairy Center provides the people of Boulder diverse opportunities to create, learn and participate in high quality performing and visual arts experiences.
"Black & White" will run Friday & Saturday, February 24 & 25, 2012 at 8pm. Tickets are on sale now, $23 for adults and $17 for students and seniors. For more information on the show, or to purchase tickets, you can call the box office at 303.444.7328, or visit http://thedairy.frontgatetickets.com/choose.php?lid=64213.
Gabriel Masson has been creating dance, text and music for most of his life. He has toured the world in the companies of Rosalind Newman, Lucinda Childs, and Doug Varone. Since 1997, he has been the Artistic Director of Gabriel Masson Dance, for which he's created several critically acclaimed pieces: LOVE: STORY in 2001, A Story About Apples in 2005, and A Place To Hang Your Hat in 2009. Recognized as a leader in avant-garde performance, Masson's work has been generously supported by the National Endowment for the Arts, New York State Council for the Arts, and the Jerome Foundation, among others. For more information, email info(at)gmdproductions(dot)org.
The Dairy Center for the Arts is a non-profit cultural arts organization founded in 1992 and one of the only places in Boulder, Colorado, to experience dramatic theater, comedy, live music, film, dance performances and visual arts under one roof. For more information, visit http://thedairy.org.
###