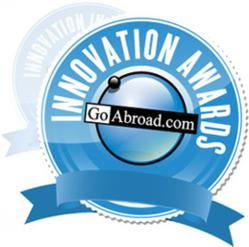 Showcasing the Best of Originality, Creativity and Exceptional Ideas in International Education.
Fort Collins, CO (PRWEB) February 13, 2012
GoAbroad.com is pleased to announce that nominations for the 2012 GoAbroad Innovation Awards are now open!
In 2011, GoAbroad began honoring institutions, organizations, and individuals in international educational by presenting the GoAbroad Innovation Awards during the GoAbroad reception at the annual NAFSA conference. These awards recognize and celebrate those who are creating initiatives to move the field forward and commend leaders in the community for their efforts to go beyond the conventional. GoAbroad is looking forward to what this year's awards will bring!
Nominations are evaluated and winners are chosen by a selective group of international education professionals known as the GoAbroad Innovations Academy. You may nominate your own or another organization/institution, as well as individuals for an Innovation Award.
The GoAbroad Innovation Awards are divided into the following eight categories:
1. INNOVATION IN MARKETING : Creative and groundbreaking marketing
2. INNOVATIVE NEW PROGRAM : Inventive global programs
3. INNOVATIVE USE OF TECHNOLOGY : Technological advancement towards education
4.INNOVATIVE USE OF SOCIAL MEDIA : Unique communication using social media
5. INNOVATION IN SUSTAINABILITY : Commitment to environmental conservation
6. INNOVATION IN GLOBAL EQUITY & ACCESS : Established leader in the area of diversity
7. INNOVATIVE STUDENT VIDEO : Captures the true essence of international education
8. PEOPLE'S CHOICE : Nominated by advisers, chosen by students
Click GOABROAD 2012 AWARDS to learn more about each award category
GoAbroad encourage's your organization and students to apply for these prestigious awards!
FILL OUT THE 2012 NOMINATION FORM!
About GoAbroad.com
GoAbroad.com has been the web's premier resource for meaningful international experiences and alternative travel opportunities for more than a decade. The site boasts the largest and most comprehensive travel directories available online, while providing the most up-to-date and accurate information on programs available worldwide. GoAbroad.com's GoMedia services also offer a distinct range of internet marketing solutions for international education, including website design and comprehensive social media management.
###