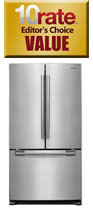 This refrigerator has good simple clean lines with french doors on top and large freezer drawer.
Atlanta, GA (PRWEB) February 10, 2012
Editors from 10rate spent some time researching and trying out some of the newest Refrigerators and rating and reviewing them on the following criteria:
1. Ease of use
2. Style and design
3. Storage Capacity
4. Durable and easily cleaned parts
5. Convenience features
6. Temperature Control
7. Energy Efficiency
8. Price and value
10Rate editors have ranked the annual 2012 Top 10 Best Refrigerators awards which is topped by the Sub Zero Pro 48 winning the top quality spot and a 8.5 out of 10 rating. The review noted several strengths of the fridge including the following exerpt, "One of the key new cool features is the optional glass doors which allow Dads everywhere to see what they want before even opening the fridge. It's a great idea since much of the energy usage associated with refrigerators comes from opening the fridge."
The best value Fridge as rated by the authors was the Samsung RF263AERS which editors noted is strong in many areas such as the following:
"This refrigerator has good simple clean lines with french doors on top and large freezer drawer on the bottom. There is no water or ice dispenser on the door which keeps the costs down, and since replacement filters are expensive we do not see this as a big negative."
Next, the best budget award from the Best Refrigerator Reviews is the Whirpool W8T. Commentary from the review of this Fridge states, "Sometimes you need a reliable "White" goods fridge that comes without fancy new looks and instead has a very competitive price tag. The Whirlpool W8TXNGMWQ give you that. This fridge still has a decent 18 cu. ft. of storage capacity, spill proof shelving, and crisper drawers all for a less than…. ."
LG is the only company in the Comparison Refrigerator Ratings that is listed twice. The two LG model refrigerators received scores of 7.7 and 7.4 out of 10.
10rate.com conducts reviews in various product and services categories and publishes "Expert Top 10 Lists for Everything in your life." The company's web site strives to "Make it Easy" to select from the hundreds of choices there are in the product and service market place. All products and services are thoroughly researched by the companies expert editors prior to receiving a rating on a 1-10 scale. In addition to Top 10 product reviews the companies editors write guidelines, buying guides and articles on various topics surrounding each product or service category covered to help educate the consumer.
###