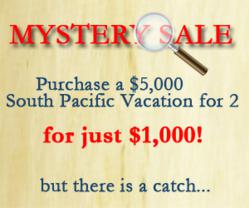 Los Angeles, CA (PRWEB) February 10, 2012
Pacificislands.com is happy to announce the completion of the first round of Mystery sale. It took place on Friday, Feb 3. Four South Pacific vacation-packages-for-two, each valued over $5,000 were sold for just $1,000 each.
"We have our first four winners - Laura, Kristine, Barbara and Ryan. I spoke to Kristine on Saturday, and she sounded ecstatic. She couldn't believe it," says PacificIslands.com President Jean Patrick Mouflard.
"We're very happy with this initiative. We have about 3,000 people registered for the Mystery sale. We received over 700 phone calls on Friday. It gives us and our partners a great exposure. And it's also a lot of fun. People are excited about the promotion, they talk to their friends, and the message gets around through social media pretty quickly," adds Jean-Patrick.
Mystery sale is a joint venture between PacificIslands.com and Islands Magazine. The Mystery Sale features five premier destinations in the Pacific Region: Tahiti, Fiji, Australia, New Zealand, and the Cook Islands. Each package is a complete vacation for two with air travel and top-notch accommodations that has a regular price of at least $5,000. The four lucky participants in each round get the chance to buy them for the once-in-a-lifetime price of $1,000.
To participate in the Mystery Vacation Sale, adventurous travelers need to register on the Mystery Vacation Sale website. Two days prior to the sale date, every registered participant receives an email containing a phone number, and telling them when they need to call. At the appointed time, the first four callers are able to purchase a $5,000 vacation-for-two for only $1,000. But there's a catch… They can choose their travel date, but they don't know where they're going until two weeks before travel.
There are sixteen vacation packages offered through the Mystery sale promotion. All 16 packages can be viewed on the Mystery Vacation Sale website. There are 4 rounds of the Mystery Sale, with four Mystery Vacation Packages in each round. Everyone who's registered is automatically re-entered for the next round of Mystery Sale, too. Registration is free.
In addition, everyone who registers gets $250 off any PacificIslands.com air and land vacation package under $10,000 that features at least one of the Mystery Sale partners, and $500 off any package over $10,000.
"There will be three more rounds of the Mystery Sale. The next one will take place in about 6 weeks. There's still time to register. Even if you don't win, you still get a coupon that can be used towards the purchase of your next vacation from us. There's nothing to lose," points out Mr. Mouflard.
About PacificIslands.com
PacificIslands.com is a unique, customer-focused travel agency specializing in bringing the magic of the South Pacific Islands within easy reach. Specializing in Tahiti Vacation packages, Fiji vacation packages, Cook Islands vacation, as well as travel to Australia and New Zealand, Pacicficisalds.com offers more options and easier access to the magnificent South Pacific region.
The company was conceived in 1998 by Jean-Patrick Mouflard, born of his passion for this unique and mysterious part of the world. Incorporated in 2008, the company partnered with Tahiti Nui Travel, a major travel corporation in French Polynesia, in 2009. The beta version of the site launched in May 2010, and was opened to the trade and the public in August 2010. In June 2011, the redesigned PacificIslands.com debuted, offering the Pacific at the speed of a click.
###