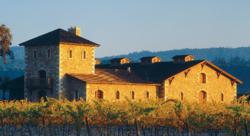 It wasn't the sheer volume of honors that V. Sattui collected that impressed so much as the quality of the awards." explains Robert Whitley.
St. Helena, Napa Valley (PRWEB) February 10, 2012
V. Sattui was named 2012 "Winery of the Year" after scoring 29 medals on its 32 wines entered at the third annual Winemaker Challenge.
The Winemaker Challenge competition, which was founded and is directed by wine writer Robert Whitley, is the wine competition where all 21 judges are professional winemakers. Judging at Winemaker Challenge was conducted over two days, and all of the wines were tasted blind, (meaning the names of the wines were not known to the judges before the wines were evaluated, thereby eliminating any bias for or against specific producers.)
"It wasn't the sheer volume of honors that V. Sattui collected that impressed so much as the quality of the awards: Of the 29 medal-winning wines, three were platinum and participated in the championship round of voting that decided Wine of the Year," explains Robert Whitley. "One of the platinums, the 2009 Gilsson Vineyard Zinfandel, finished in a tie for best zinfandel. Then there were 13 gold-medal wines in addition to the three platinum-medal wines," he adds.
V. Sattui's other big winners included a Platinum medal for it's 2009 Pinot Noir, Doctor's Vineyard Santa Lucia Highlands ($47.00) and Platinum medal awarded for its 2009 Zinfandel, 35th Anniversary Selection ($28.00).
The third Winemaker Challenge attracted more than 800 entries from 12 countries, with a number of the foreign wines performing admirably.
"Year in and year out we continue to win awards of this magnitude," comments Tom Davies, V. Sattui President. "In fact, last year the winemakers voted our 2008 V. Sattui Pilgrim Vineyard Zinfandel as their Wine of the Year," he adds.
About V. Sattui Winery:
V. Sattui makes over forty different wines and are sold exclusively from the winery. In addition to this particular honor, has been named "Best of the Bay" winner in the 2011 San Francisco Bay Guardian.
Founded in 1885 by Vittorio Sattui, today V. Sattui Winery is the only winery in Napa Valley with its own extensive deli offering house-made prepared foods from salads to charcuterie to pastas, pizza, and barbecued fare and over 200 cheeses from around the world. Visitors can assemble a picnic and enjoy it outdoors under the centuries-old oak trees on the winery grounds.
V. Sattui Winery is located 1.5 miles south of St. Helena at 1111 White Lane; the winery is open seven days a week from 9:00 a.m. to 5:00 p.m. (winter hours) no reservations required.
###