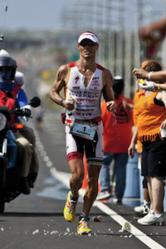 "TrainingPeaks is at the leading edge of science and training and I have found nothing else compares."
-Craig Alexander
Lafayette, CO (PRWEB) February 10, 2012
Craig Alexander, affectionately known as Crowie, has selected TrainingPeaks to be his official training software. Building upon several years of reliance on the software, the 3-time Ironman World Champion and 2-time Ironman 70.3 World Champion will use TrainingPeaks together with his performance team throughout 2012 and 2013 to monitor, analyze and plan his training and racing.
"It's a true honor to publicly partner with Crowie. He's not only an outstanding athlete but also a humble ambassador for triathlon who is well respected by everyone involved with the sport," said Gear Fisher, CEO of TrainingPeaks. "We are really looking forward to helping Crowie and his team utilize our tools to have another season with incredible results."
Alexander tracks all his workouts and races, then uploads his heart rate, power and GPS data to TrainingPeaks for analysis by his coaching team. Using tools including the Performance Manager ChartTM and each workout's Training Stress Score they get in-depth insight into his fitness required to adapt his triathlon training for optimal results.
"TrainingPeaks is an essential tool my performance team relies upon. Every workout is tracked within TrainingPeaks and the post-workout analysis helps drive my training program so we can easily measure my fitness gains," said Alexander. "As I get older the science of training becomes more important to incorporate into my workout selection. TrainingPeaks is at the leading edge of science and training and I have found nothing else compares."
Throughout 2012 and 2013, select workouts from Crowie's training will be made available for the public to analyze themselves on TrainingPeaks.com. Fans will be able to interact with his data online or by downloading to TrainingPeaks' desktop power data analysis software WKO+
About TrainingPeaks
Founded in 1999 by athletes and coaches TrainingPeaks is the leading brand of endurance training software. TrainingPeaks' suite of products include the world's premier web based fitness training log TrainingPeaks.com accessed online and through iOS and Android applications; PC desktop analysis software, WKO+; and a family of GPS activity tracking apps for iPhones including Run Tracker Pro, Cycle Tracker Pro and Walk Tracker Pro.
TrainingPeaks customers in more than 120 countries include endurance coaches, triathletes, cyclists, runners and swimmers from beginner to elite athletes. More than 90 hardware devices including Garmin, Timex, SRM, Quarq, CycleOps and Polar as well as mobile applications such as Active Forecast, Digifit, and Distance Meter are compatible with TrainingPeaks.
TrainingPeaks products are developed and owned by Peaksware, LLC and together provide co-branded solutions to manufacturers such as Timex; events such as the Rock 'n' Roll Marathon Series; and publishers including Runner's World, Triathlete and Outside Magazine.
More information can be found at http://www.TrainingPeaks.com and blog.trainingpeaks.com.
About Craig Alexander
Craig Alexander is a a five-time World Champion. His results are unmatched and reflect his unparalleled work ethic, as well as Crowie's versatile talent across all triathlon distances: three-time Ironman World Champion (2008, 2009, 2011), two-time Ironman 70.3 World Champion (2006, 2011), six-time Australian Long Course Champion, more than two dozen half Ironman victories and countless podium placings in every race format from sprint to full Ironman. He has also received multiple prestigious sports awards and accolades and, perhaps most meaningfully, was lauded as "the first true men's champion the sport has seen in years" by none other than Ironman legend and six-time World Champion Dave Scott.
In 2010, He was named one of Inside Triathlon Magazine's 10 Greatest Male Iron-Distance Triathletes of All Time and one of Inside Triathlon Magazine's 15 Greatest Male Triathletes of All Time. Then in 2011, he did what no professional triathlete has ever accomplished; winning both the Ironman 70.3 and Ironman World Championship in the same year. He was the oldest male (38) in history to win the infamous Ironman Hawaii AND he also broke the course record.
For more information on Craig Alexander visit his website.
###