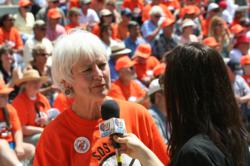 The Liberty Quarry will negatively affect almost every aspect of life in this area
Temecula, CA (PRWEB) February 08, 2012
Liberty Quarry project in Temecula, California is due for a final showdown between Granite Construction and concerned citizens (Save Our Southwest Hills) including various organizations and medical doctors opposing the Liberty Quarry project because of environmental issues it could have on the area. The scheduled meeting is set for 9am, Tuesday, February 14th at the Riverside County Administration Center, 4080 Lemon St., Riverside. Citizens interested in the issues are urged to attend and arrive early.
Among the issues citizens are fighting for include environmental (air and water pollution), raping of the land (414 acres), the loss of County property tax revenue which could approach one million dollars due to home devaluation and lost home sales and traffic conditions from the 1,600 gravel trucks daily.
Matt Rahn, who oversees a San Diego State University ecological reserve adjacent to the quarry site in a previous meeting criticized the 8,500-page environmental study cited by Granite's Johnson by saying it lacked "scientific rigor and legitimacy." Rahn said the project provides "a playbook for how to kill a mountain."
Among a few of the organizations opposing the Liberty Quarry project are The Pechanga Band of Luiseño Indians, Temecula City Council, grassroots citizens' network, two San Diego County planning groups and environmental organizations.
The Planning Commission held six hearings and listened to nearly 52 hours of public comments before voting 4-1 last August to deny the quarry a surface mining permit and related approvals.
For additional information interested parties can go to:
The Press-Enterprise Newspaper
About Save Our Southwest Hills
Save Our Southwest Hills is a group of concerned citizens and homeowners along with various organizations in Southwest Riverside County, Rainbow and Fallbrook, California.
Save Our Southwest Hills has been fighting this project for nearly 7 years. The rocky, western hills that border Temecula, Rainbow and Fallbrook are threatened by a MEGA mine of gigantic proportions (1 mile wide, 1000' deep) that will pollute the now pristine, clean air that blows daily thru from the coast through the mountains into our communities. It will also add 1600 double trailer gravel truck trips daily onto our roadways, destroy a 4500 acre ecological reserve owned by SDSU for nearly 50 years, sever the last wildlife corridor in Southern California and pollute the Santa Margarita River, water source to Camp Pendleton, put the Temecula wine country at risk from dust on new growth, reduce property values, threaten tourism in the Temecula Valley, destroy the sacred land of the Pechanga band of Luiseno Indians…to name a few.
# # #