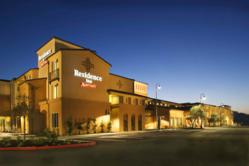 "Our hotels are designed to reflect the character of the city where they are located," said Olson. "The Residence Inn by Marriott in San Juan Capistrano emits that of a historic California mission style in its architecture, artwork and decor."
Irvine, CA (PRWEB) February 09, 2012
R.D. Olson Development will open the Residence Inn by Marriott in San Juan Capistrano on Thursday, February 9. The hotel is located between the world-famous San Juan Capistrano Mission and Doheny State Beach at 33711 Camino Capistrano.
The Residence Inn by Marriott is the fifth hotel R.D. Olson Development has developed in Orange County. Marriott International will manage the hotel, while R.D. Olson Development will retain ownership through its related entity, Camino Capistrano SPE.
Distinctly in R.D. Olson Development fashion, the hotel is customized to reflect San Juan Capistrano California Mission style, while providing the amenities sought by business and pleasure travelers alike.
"We designed the hotel to capture the essence of the beachside community that's so rich in California mission history so our customers can get a feel of what makes this city so special," said Robert Olson, CEO/president, R.D. Olson Development.
The interior of this three-story Residence Inn resonates the Spanish influence that prevails within San Juan Capistrano. Bountiful use of warm colors and complementary artwork that reflects the mission, beaches and equestrian communities, weave throughout the 91,500 square foot hotel.
Upon entering, visitors will enjoy a lobby and public areas that closely resemble the majestic San Juan Mission architecture and early California design.
To ensure total comfort, the hotel provides 130 suites, including 104 studios—11 of which are fitted with double queen beds; thirteen one-bedroom suites, seven of them fitted with double queen size beds; and thirteen two-bedroom suites, three of which are fitted with double queen size beds. Of these suites, 80 percent have oversized showers.
Furthermore, the San Juan Capistrano hotel unveils the newest generation of the Residence Inn brand that includes furnishing the rooms with sectional couches, an ihome stereo system, and large flat screen television complimented with free WIFI and hard-wired Internet access. Each suite also has an oversized desk. The kitchens are complete with all the accessories needed to satisfy those culinary types who prefer a home-cooked meal to dining out.
The hotel provides 1,500 square-feet of meeting space and a 350-square-foot high-tech boardroom for business and leisure hotel customers alike. To the liking of any fitness buff, a 1,000-square-foot fitness center is fitted with state-of-the-art equipment.
The hotel's exterior compliments the California Mission architecture as well. A putting green, fire pit and resort-style solar-heated pool sit on the edge of the bluff overlooking the Pacific Ocean. Guests also enjoy the hotel's close proximity to Dana Point Harbor, Doheny State Beach, a mega soccer complex, golf courses, local shopping, one of the country's most-visited tourist attractions—the San Juan Capistrano Mission, and many world-class equestrian facilities.
Awbrey Cook Mcgill Architects, based in San Diego, Calif. provided the architectural design, while Kling/Barta Design, LLC of Shawnee Mission, Kansas designed its interior.
R.D. Olson Construction of Irvine, Calif. built the Residence Inn by Marriott in San Juan Capistrano. Additionally, the company is building a 249-room hotel in Carlsbad and a 150-room hotel, the Courtyard by Marriott, in San Jose. It also is making major renovations to the popular Westin Gaslamp Quarter Hotel in San Diego and the Hyatt Regency Long Beach.
Robert Olson founded R.D. Olson Development in 1998, which has since gained standing as a leading hotel developer. The company recently opened the Oceanside Courtyard by Marriott. R.D. Olson Development will open two more hotels in 2012—Kahalui, Maui Courtyard by Marriott; and the Goleta Courtyard by Marriott, within Santa Barbara County. Other notable projects developed by R.D. Olson Development include the $70 million Marriott Renaissance ClubSport in Aliso Viejo--a combined 174-room full-service Marriott Renaissance Hotel brand and 70,000-square-foot world-class fitness center; a five-story 166-room Residence Inn by Marriott in Burbank that caters to the entertainment industry; and an eight-story 174-room Residence Inn by Marriott in Irvine near the intersection of Main and Jamboree.
For more information, please visit http://www.rdodevelopment.com.
###