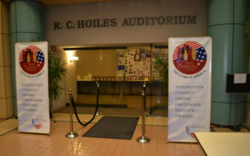 It is time that our young Hispanics change the conversation.
Irvine, California (PRWEB) February 09, 2012
The 2012 Hispanic Voice Town Hall Tour is ready to take the momentum that was cultivated during the January 11th launch in Santa Ana, CA and build upon it in Las Vegas, NV and Denver, CO. With the support of the University of Nevada, Las Vegas (March 2nd) and the University of Colorado, Denver (March 27th) – 2012 Hispanic Voice continues its pursuit to build an agenda that is organically grown through the voices of local Latino community leaders. According to 2012 Hispanic Voice Founder Glenn Llopis, "we are excited to partner with universities that recognize the importance of building bridges between the incumbent and the new generation of Hispanic leaders. Young Hispanic voters are passionate about having their voices heard in 2012 and seek to form consensus with the older generation of Hispanic leaders in their local communities."
2012 Hispanic Voice believes that young Hispanics are eager to establish their own platform and voice; one that respects and enhances the relevancy of their authentic cultural values and represents their unique generational needs. Young Hispanics are ready to objectively express their points of view that are solution-oriented, forward-thinking and focus on progress and a winning attitude that delivers results. According to UNLV student Lucero Gomez Ochoa, "it is time that our young Hispanics change the conversation. It's good that we reflect on the difficult times that we have gone through as Hispanics/Latinos, but it is also important to build a more pluralistic, vibrant, progressive agenda, to demonstrate that we are here to make America an even better country. It's time to create an agenda that unites both old and young Hispanics."
An equally strong desire exists from young Hispanics to not only create a unifying agenda, but to cultivate this agenda into action by increasing Latino voter turnout. According to Leo Murrieta, Nevada State Coordinator for Mi Familia Vota, "every 30 seconds a Latino in the United States turns 18. Latino youth are an important segment of Latino voters and Mi Familia Vota, together with the 2012 Hispanic Voice initiative is working hard to engage them in our country's democratic process for the future well-being of our community."
2012 Hispanic Voice is a non-partisan initiative aimed to help Hispanics in America understand the responsibility of their voice and identity to cultivate sustainable economic prosperity in America. The 2012 Hispanic Voice Las Vegas Town Hall will be held at 4505 S Maryland Parkway (CBC A106), Las Vegas, NV 89154 on March 2nd from 6:30pm – 8:30pm. The 2012 Hispanic Voice Denver Town Hall will be held at University of Colorado Denver (Auraria Campus) - 900 Auraria Pkwy. Tivoli Turnhalle - Denver, CO 80207 on March 27th from 6:30pm – 8:30pm. Registration is free online at http://www.2012HispanicVoice.com. For more information on how you can host a Town Hall Tour event in your city and / or if you are interesting in being a volunteer, please contact us at: ideas(at)2012HispanicVoice(dot)com.
# # #