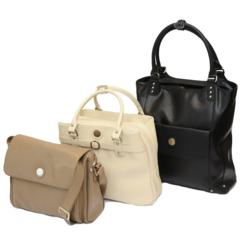 Orlando, FL (PRWEB) February 09, 2012
Jill-e Designs®, the leading maker of sophisticated career bags, laptop bags and carry bags for today's technology-rich lifestyle, has released their Spring 2012 Trend Report. With spring right around the corner, the report outlines some stylish ways for tech-savvy women to warm up their style in the upcoming season with Jill-e Designs' new E-GO Leather Collection.

Clean Classics: Simple, classic looks are in season and the new, stylish Leather E-GO Collection career bags will be available just in time to make wardrobe updates.
Rockin' Leather: With its classic, yet cutting edge connotations, leather is the perfect style for the modern woman. The E-GO Leather Collection offers go-to, staple pieces to complement all lifestyles.
Head Into the White: With warm weather ahead, looks accentuated with a shade of white keep styles cool. Be sleek and stand out with the Jill-e Metro Tablet Bag or luxe and rich in style with the Leather E-GO Tablet Messenger in Vanilla.
Survival of the Fittest: Make a fierce fashion statement with a carry bag accessory that is decadent and daring. The Chocolate Croc Laptop Tote takes looks from subtle to stunning.
"Jill-e Designs style mavens understand women need a stylish option that can bring their favorite Apple and tech products safely and stylishly from one season to the next," said Gail Backal, Jill-e Designs President. "We are thrilled to offer the innovation and dependability that our E-GO Collection is known for, with the added versatility and timelessness of high quality leather."
Keeping up with the hottest spring trends, Jill-e's new E-GO Leather Collection of chic career bags will be available just in time to celebrate the new season. On sale February 20, the new line of leather bags for the E-GO Collection safeguards Apple and other popular tech products, while offering a polished, versatile look for women on-the-go. From stylish laptop bags to wristlets, Jill-e Designs® offers a carry bag designed to hold her favorite lifestyle essentials, no matter what her needs and personality may be.
To view the full Spring Trend Report by Jill-e Designs, visit: http://www.jill-e.com/blog/20120209-spring-trend-report-keep-your-look-classic-with-jill-e's-new-e-go-leather-collection.
About Jill-e® Designs
Founded in 2006, Jill-e Designs fashions sophisticated carry bags for those living today's tech-savvy, on-the-go lifestyle. Fusing fashion and function, Jill-e offers everyone, from the tech-toting career woman to the photo-snapping fashionista, bags with style, flair and built-in protection for fragile electronic devices that have become essential to their daily lives. For more information on Jill-e Designs' stylish alternatives to typical camera and e-gear bags for both men and women, visit http://www.jill-e.com.
Connect with Jill-e Designs on Facebook at http://www.facebook.com/Jill.e.Designs and on Twitter at https://twitter.com/#!/JilleDesigns.
###