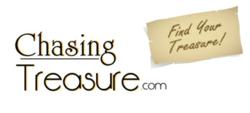 our Facebook fans enjoy an exclusive 10% discount on select jewelry armoires.
Spokane, WA (PRWEB) February 09, 2012
"This is the time of year when men are searching for memorable Valentine's Day gifts and that is why we are featuring and promoting our stylish jewelry boxes for women including best selling styles by the Mele Company," explained Karen Mollison.
Mollison is managing partner of the online jewelry box retailer Chasing Treasure. Based in Spokane, Chasing Treasure offers several hundred jewelry boxes ranging from small travel jewelry organizers to floor standing jewelry armoires.
"Mele has been a leading name in jewelry boxes for over 100 years, and is known for its classic styling and attention to details," said Mollison. "And that is why we are happy to offer discounts on some of our favorite Mele jewelry boxes and armoires during this special February holiday season," she added.
For men who are not quite sure which jewelry box would make the best present for their Valentine's Day loved one, Mollison suggested that they start with the Women's Jewelry Boxes section of the Chasing Treasure website or the Mele Jewelry Box section of the site.
In particular, Mollison pointed to a product that "would make a Valentines Day present that will truly stand out." She was referring to a tall jewelry cabinet for women in a cherry finish. With six drawers, twenty two double necklace hooks, and concealed side closets, "this cabinet is a perfect choice for storing a large collection of necklaces and is simply an unforgettable gift that will house a lifetime of jewelry," she added.
Another jewelry box which Chasing Treasure is featuring this month is a large wood jewelry box known as "Empress". This huge walnut jewelry chest by Mele has six drawers - one double drawer in the middle, one ring drawer, one with four equal sections, two open drawers and is a "customer favorite" said Mollison.
Like many retailers, Chasing Treasure is connecting with its customers via social networking sites such as Facebook. "We have set up a 'social store' on Facebook." Mollison said. "That's where our Facebook fans enjoy an exclusive 10% discount on select jewelry armoires," she said.
Chasing Treasure also connects with their customers on their blog and this month's articles touch on more gift ideas for Valentine's Day as well as giving tips for care of jewelry and highlighting trends in jewelry gift-giving.
###