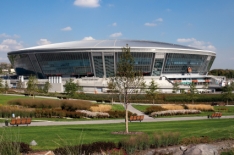 We received the tickets and had a terrific time at the Winter Games! Great Atlantic Travel and its staff provided us with fabulous customer service! Thanks for looking out for us! - Sarah H. - Ellenwood, GA
Virginia Beach, VA (PRWEB) February 09, 2012
While Great Atlantic Travel & Tour celebrates 30 years of service to the travelling public, Poland and Ukraine are preparing to host the UEFA EURO 2012 championship. Sixteen teams will compete for a chance to be crowned the champion of European Football. The journey for these teams began in the UEFA Euro 2012 qualifying competition in Warsaw in February of 2010. Fifty one teams competed for the fourteen remaining spots in the finals, with co-hosts Poland and Ukraine getting an automatic bid.
Great Atlantic Travel is proud to offer travel packages along with premium hospitality services through its affiliation with MATCH Hospitality. Sports travelers interested in learning more about travel options to experience EURO 2012 should call Great Atlantic Travel at 1-800-888-8233 or visit their website at http://www.GreatAtlanticTravel.com.
The Great Atlantic Travel & Tour Company is a member in good standing of the National Tour Association (NTA), Better Business Bureau (BBB), and International Association of Travel Agents (IATA), and is committed to providing exceptional service for the sports traveler. Great Atlantic Travel specializes in providing once in a lifetime sports travel experiences. From the initial trip planning to on-site support by an experienced travel consultant, Great Atlantic Travel works to make each trip a unique experience.
###