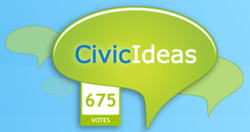 CivicIdeas gives governments what they need to strengthen democracy and encourage productive civic engagement and collaboration online.
San Francisco, CA (PRWEB) February 09, 2012
Granicus, the award-winning provider of cloud-based technologies for government transparency, efficiency, and citizen engagement, today announced the release of CivicIdeas™, a web-based application designed to help government collect and prioritize ideas from citizens. Through a rich assortment of features including citizen crowdsourcing, discussion forums, surveys, and more, CivicIdeas gives governments what they need to strengthen democracy and encourage productive civic engagement and collaboration online.
"Social networking is fueling a new era of citizen engagement. Citizens increasingly expect government websites to have a convenient way for them to express their ideas and give feedback. We wanted to give government simple and productive tools to achieve this," said Tom Spengler, CEO and Co-Founder of Granicus. "With CivicIdeas, citizens can easily contribute to government planning and decision-making with just a few key strokes. It also provides tools for government staff to facilitate collaboration without adding more work, increasing costs, or creating more risk."
In a recent local government survey, Granicus found that 91% of respondents wanted to make community outreach and involvement more convenient, measurable, and productive online. "This is a clear indicator of the importance governments are placing on public participation today. They are harnessing the web, data sharing, and collaboration like never before in order to improve transparency and the quality of government decision-making," added Spengler.
CivicIdeas allows citizens to get involved in government through a convenient online forum. They can submit ideas on government policy, programs, and services, follow ideas that interest them, vote for their favorite ideas, participate in discussions, and even give their opinions through surveys. Traditionally, government community outreach and involvement are either in-person or require a lot of paper shuffling and manual effort to manage and track. "The ideas generated through CivicIdeas are prioritized by the community. As ideas are being processed, citizens can track their status online. This two-way collaboration gives citizens the assurance that their voices are being heard and paves the way for greater trust in government," said Javier Muniz, CTO and Co-Founder of Granicus.
Additionally, because CivicIdeas is the newest addition to Granicus' Citizen Participation Suite, it provides customers with even more ways to engage and involve citizens throughout their governing process—in the early planning stages and as policy items are being discussed and deliberated at a public meeting. "Our goal is to empower citizens with information, access to services, and opportunities for engagement. Our Citizen Participation Suite creates a powerful link between government and citizens, helping government produce better outcomes," added Muniz.
The City of Austin, TX is already realizing success with CivicIdeas. They used it to build a powerful online forum for community involvement called SpeakUpAustin!. Since it launched, the City has engaged over 1,100 citizens, generated 424 ideas, put 50 ideas into action and fully implemented 18 of them. They were even recently honored for excellence in citizen collaboration in the 2011 GovFresh Awards. Austin will be guest speaking at Granicus' official product launch webinar for CivicIdeas on February 16th at 10AM PT.
"Our community engagement efforts are looking beyond traditional means to bring more people into the process of providing input to their government," said Doug Matthews, Chief Communications Director for the City of Austin. "SpeakUpAustin has played a key role in creating a public dialogue of ideas, suggestions and ways the City can better serve our community as we strive to be the best-managed city in the country."
About Granicus
Granicus, Inc. is the award-winning cloud platform provider for government transparency, efficiency, and citizen participation. It offers the first cloud platform and product suites designed specifically to help government agencies establish meaningful connections with citizens while reducing operational costs. Granicus has been recognized the past four years for being one of the fastest growing company private companies in the U.S., San Francisco, and the Silicon Valley by Deloitte LLP, the San Francisco Business Times, and Inc. Magazine.
# # #