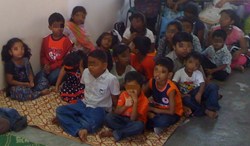 Though Malaysia is not a signatory country to the 1951 Refugee Convention, it is still subject to the Convention on the Rights of the Child.
New York, New York (PRWEB) February 16, 2012
In January, Transnational Government of Tamil Eelam (TGTE) ministers Muthukumarasamy Ratna, and Alex Doss went to Malaysia, accompanied by David Matas, an international human rights lawyer, to investigate claims of harsh living conditions by Tamil refugees to the Southeast Asian country. The TGTE mission discovered that, while Malaysia has taken some positive steps to address difficulties faced by refugees, Tamils still claim to face discrimination, employment abuse and violence.
The three man delegation worked in connection with a new NGO, the Sri Lankan Tamil Refugee Organization of Malaysia (STROM), dedicated to helping refugees with welfare, education, healthcare, employment, security, and resettlement. They visited the UNHCR, human rights lawyers, and conducted over 250 in-home visits with Tamil refugees. According to the UNHCR, there are 4268 Tamil refugees, overall in Malaysia.
The TGTE Ministry said, "During our fact finding mission, numerous Tamil refugees claimed that exploitation, kidnappings, police harassment, extortion, and rapes have occurred amongst the refugees in Malaysia." According to STROM, since Tamil refugees are made to sign Malay language documents in which they pledge a return to Sri Lanka, they live with personal uncertainty, anxiety and stress, and fear venturing out on their own.
The group identified a large number of Tamil war widows left with children. Currently, these children are barred from attending schools. "In five to ten years, what would become of them?" asked Minister M. Ratna. Matas added "Though Malaysia is not a signatory country to the 1951 Refugee Convention, it is still subject to the Convention on the Rights of the Child." The convention provides that children of asylum seekers and refugees shall 'receive appropriate protection and humanitarian assistance,' and will cooperate with the UN in providing those services.
"To date, Malaysia has not taken any steps to protect the rights of the children of refugees. The government should take initiative for their education, as there are over 500 Tamil schools throughout the country to facilitate them," Matas said.
The TGTE Ministry also reported many cases of refugees not getting paid for working odd jobs. "This seems to be a big problem as they are unable to sustain their families," the delegation reported. Access to healthcare was another difficulty uncovered by the delegation. Although many have amputated limbs or shrapnel in their body, they are not receiving medical attention, and the Tamil elderly lack access to necessary care.
The Ministry explained, "Tamil refugees in Malaysia are under the risk of being deported back to Sri Lanka, where they face imminent threat to life. Because of their 'non-legal' status in the country, many claim to be harassed by the police, and RELA Corps, a civilian volunteer police force. These civilian police are paid an 80 Ringgit incentive per arrest. This can make refugees a target for arrest or extortion.
SUARAM, a Malaysian human rights group, says that the Malaysian government makes things harder for refugees. Malaysia has shown no intention of ratifying the 1951 UNCHR Refugee Convention Relating to the Status of Refugees and its 1967 Protocol, according to SUARAM. Currently refugees and asylum seekers have no legal status in Malaysia. Even if a refugee is formally registered with the United Nations High Commissioner for Refugees (UNHCR), Malaysian law does not recognize that the country has any obligation to provide protection, according to SUARAM.
The TGTE delegation found a positive development during their trip. The Malaysian government has taken some steps to solving the problems refugees face in the country with the 6p Program. According to The Malaysian Bar, "the 6p Program stands for Comprehensive Settlement of Foreign Worker Program and 'illegal' immigrants." "Malaysia is moving in the right direction with this upcoming 6p Program in March this year. We encourage the country to foster, and promote human rights by signing the 1951 Convention," said the TGTE Ministry.
Deputy Minister Doss said, "The trip was very productive. Not only did our Ministry cover our area of focus, but it covered areas of other TGTE ministries such as the welfare of women and children, education, healthcare, and economic affairs. Our Ministry shall work to bring about solutions for short term problems refugees face, and a long term solution on resettlement."
Since the end of Sri Lanka's ethnic conflict in May of 2009 between the Liberation Tigers of Tamil Eelam (LTTE) and the Government of Sri Lanka (GoSL), there has been a mass exodus of Tamil refugees globally. In a matter of three days, according to Amnesty International and Human Rights Watch, 40,000 people were killed in an aerial bombardment of the Tamil homeland of the Northeast, also known as Tamil Eelam. Scores of surrendered Tamil Tiger rebels, and civilians were tortured, raped, and massacred. The TGTE Ministry of Refugees, IDPs, and POWs received reports of boatloads of Tamil refugees escaping the carnage. Many have landed on the shores of Indonesia, Malaysia, Australia, Ecuador, South America, and the West African country of Togo.
About The Transnational Government of Tamil Eelam:
Transnational Government of Tamil Eelam (TGTE) is a democratically elected body of the Tamil Diaspora from the island of Sri Lanka. TGTE held elections in 15 countries to elect Members of Parliament. The Parliament drafted and ratified its Constitution, elected a Prime Minister, a Speaker, and 10 Cabinets consisting of 10 Ministers and Deputy Ministers.
###