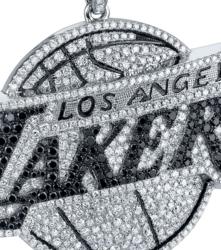 This limited flagship designer series is the finest premium collection of its kind in the world
Los Angeles, CA (PRWEB) February 09, 2012
JewelryBrands.net is pleased to feature official Los Angeles Lakers Jewelry by Gameplan.
The Jewelry collections are Officially licensed by the National Basketball Association and include:
Los Angeles Lakers Jewelry
W SERIES BLACK & WHITE DIAMONDS:
This limited flagship designer series is the finest premium collection of its kind in the world. The Lakers W Series exceeds expectations and is a jewelry engineering masterpiece. These exclusive collector gems feature sparking full cut black & white diamonds microset in pure white gold. Each W series includes an exclusive 36" NBA premium Italian white gold chain and is individually numbered and registered. $ 17,400 to $ 19,200.
Los Angeles Lakers Jewelry
B SERIES SOLID GOLD WITH DIAMONDS:
The Lakers B Series by Gameplan Jewelry is a premium quality designer series expertly forged in pure gold. Features precision craftsmanship and solid construction, this collector series uses solid gold components - hand crafted in white, yellow, rose and black gold. Jewelry features sparking full cut diamonds and includes a 20" NBA premium Italian white gold chain. All items are Individually numbered and registered. $ 2,400 to $ 3,200.
Los Angeles Lakers Jewelry
500 SERIES ALTERNATIVE METALS FOR MEN:
Los Angeles Lakers 500 Series Mens Necklace by Gameplan Jewelry. The design is big, bold and solid. Gameplan makes the finest sports jewelry in the world including NBA Diamond Jewelry®, worn by celebrities, basketball fans, and seen on professional athletes such as 2011 NBA MVP Derrick Rose.
Necklace collections feature vivid and rich Lakers Purple enamel and a durable bright Gold Alloy, Chrome Alloy or Jet Alloy finish. The iconic 500 Series is designed and produced in the USA by Gameplan using only the highest professional grade metal alloys. These quality neckpieces are high polished, plated, enameled and hand finished to perfection. Featuring a scratch proof surface and limited warranty for years of enjoyment, these pendants measure a full 2.2" wide and include custom packaging. Neckpieces include a matching 30"long, 3.2 mm high polished ball chain that can be easily adjusted. $ 175.
For the Finest Jewelry and Watches Online, visit Jewelrybrands.net.
###