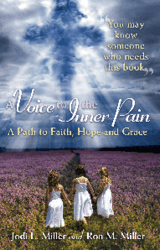 (The book) features heartfelt words from a woman who has lived through abortions and the often painful consequences that follow.
LAKE ARIEL, Pa. (PRWEB) February 15, 2012
Although a lifetime of choices influenced Jodi Miller's decision to have multiple abortions, it was her decision to seek God's help in healing that finally put her on the path to recovering from that trauma. Jodi went through almost 20 years of shame, denial and suffering in silence before taking a hard look at her life and trying to work through her pain. This new book explores misconceptions about abortion – especially that it solves problems instead of creating them.
"A Voice to the Inner Pain" features heartfelt words from a woman who has lived through abortions and the often painful consequences that follow. Forced to choose between babies and her partner, Jodi ultimately chooses to end her pregnancies. Issues of abandonment, insecurity and depression strain their relationship as the enormity of the loss sinks in. Counseling helps her begin to heal, and an inspirational book gives Miller the courage she needs to ask for God's help. By making small leaps of faith, gradually their lives begin to improve. Family relationships heal as Jodi and her sister pray together and she reconnects with her father.
A post-abortion retreat for the couple with unexpected revelations brings them closer to each other and to recovering from the loss of their daughters, Faith, Hope and Grace. This book, a rich resource for anyone who has terminated a pregnancy, includes a list of symptoms of post-abortion syndrome, as well as resources for those looking for help, providing additional lifelines to those in pain. As the author writes, "There is hope and healing for those who are suffering from post-abortion syndrome, whether it is the woman who endured the procedure, the father, grandparents or family member of an aborted child or someone who helped participate in an abortion. Allow God to give you a voice to your inner pain."
Author Jodi Miller, who grew up in a broken home, experienced three abortions before marrying her boyfriend. She dropped out of high school and obtained her GED. Counseling and a retreat revealed that Jodi had post-abortion syndrome. She and her husband, Ron, share their story of healing and hope in the aftermath of abortion by speaking to high school students, churches and through radio and television shows. They are available for speaking engagements.
----------
For additional information, please visit http://www.Hisgraceheals.com
Or
E-mail: Hisgraceheals(at)echoes(dot)net
A Voice to the Inner Pain: A Path to Faith, Hope and Grace
Jodi and Ron Miller
Dog Ear Publishing
ISBN: 978-1-45750-653-6 168 pages $12.95 US
Available at Ingram, Amazon.com, Barnes & Noble, E-books, and fine bookstores everywhere.
About Dog Ear Publishing, LLC
Dog Ear Publishing offers completely customized self-publishing services for independent authors. We provide cost-effective, fast, and highly profitable services to publish and distribute independently published books. Our book publishing and distribution services reach worldwide. Dog Ear authors retain all rights and complete creative control throughout the entire self-publishing process. Self-publishing services are available globally at http://www.dogearpublishing.net
and from our offices in Indianapolis.
Dog Ear Publishing – self-publishing that actually makes sense.
###