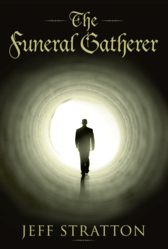 A whirlwind day starts with saving the black-haired beauty from choking and helping a battered wife, as well as evading crooked cops and federal agents planning to assassinate the president.
Lyndeborough, NH (PRWEB) February 28, 2012
Brad Underwood fears leaving the same legacy as his father, worn down by life. He vows he won't end up like his dad in this imaginative story released by Dog Ear Publishing. Soon after his father's sparsely attended funeral, Brad begins dreaming about people who beckon him to a better place. Mysterious e-mails, text messages and cell phone calls follow, all leading to Brad getting involved with the FBI, terrorist suspects, and a plot to assassinate the visiting president of the United States.
In "The Funeral Gatherer," Brad tries to reinvent himself, feeling drawn to a mysterious world of light. Even as this formerly hard-drinking real estate salesman works with his neglected wife Brianna to bring others to the light, Brad struggles with feelings for an attractive, black-haired colleague. A whirlwind day starts with saving the raven-haired beauty from choking and helping a battered wife, as well as evading crooked cops, corrupt federal agents, and possible terrorists planning to assassinate the president. A shadowy figure who seems somehow familiar adds to the supernatural feeling of this nonstop adventure that doesn't end until the startling conclusion.
Author Jeff Stratton, a licensed clinical mental health counselor and licensed alcohol and drug counselor, has been drawn to writing for the past 15 years. He especially enjoys suspense/thrillers and exploring the spiritual realm. Stratton aims to create realistic characters and keep the plot moving quickly. He and his wife, Kathleen, live in New Hampshire.
For additional information, please visit http://www.jeffstratton.com.
The Funeral Gatherer
Jeff Stratton
Dog Ear Publishing
ISBN: 978-1-4575-0782-3
332 pages
$14.95 US
Available at Ingram, Amazon.com, Barnes & Noble and fine bookstores everywhere.
About Dog Ear Publishing, LLC
Dog Ear Publishing offers completely customized self-publishing services for independent authors. We provide cost-effective, fast, and highly profitable services to publish and distribute independently published books. Our book publishing and distribution services reach worldwide. Dog Ear authors retain all rights and complete creative control throughout the entire self-publishing process. Self-publishing services are available globally at http://www.dogearpublishing.net and from our offices in Indianapolis.
Dog Ear Publishing – self-publishing that actually makes sense.
# # #