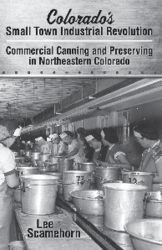 'Colorado's Small Town Industrial Revolution' is a fascinating glimpse into a long-ago time, full of vivid portraits of the men and women who helped to build Colorado into the state it is today.
Longmont, Colo. (PRWEB) February 21, 2012
This new non-fiction work published by Dog Ear Publishing is an in-depth study of the industrial boom centering on the food canning and preserving industries in dozens of communities in northeastern Colorado from the end of the 19th century to the industry's downfall in the mid-to-late 20th century.
The history of food preservation goes back as far as human memory; every great civilization had at least one method of keeping food from spoiling, but modern canning practices came into being at the very end of the 18th century in France, where the government offered financial compensation to anyone who could come up with a method of preserving food for the military. Chef Nicolas Appert created the method that is still in use today, the method that played a vital role in the industrialization of northeastern Colorado in the 19th and 20th centuries. To the rural residents of Colorado, the canning industry that sprang to life there were a vital source of income, creating a nutritious and delicious source of food for the region. These canneries loomed large until their eventual defeat at the hands of the giants such as Libby, McNeill and Libby, as well as Stokely-Van Camp, companies that continue to serve the entire nation's canned food needs. But what of the men and women who helped to foster the boom of industry in Colorado?
John C. Kuner's need to support his family after their move to Denver formed the basis of one of the great canning companies in Colorado; pickling vegetables in his home kitchen, Kuner went door-to-door selling his goods to Denver households seeking some variance in their diet during the winter months. Kuner and his brother, Max, eventually formed Kuner Pickle Company, with Max gradually buying his brother's share of the business and building the business into one of Denver's most venerable institutions. John Howard Empson came to Colorado at his doctor's urging, seeking a cure for his infected lungs. Empson, a successful businessman in Cincinnati,was inclined to ignore his doctor's advice, but he was eventually swayed by his 7-year-old daughter, Alida. Son of a grocer, Empson soon realized the value of canned food, and decided to take advantage of the city dweller's inability to grow their own food. Kuner and Empson's businesses boomed, and both companies spread their canning factories throughout rural Colorado.
Colorado's Small Town Industrial Revolution is a fascinating glimpse into a long-ago time, full of vivid portraits of the men and women who helped to build Colorado into the state it is today. Professor emeritus Lee Scamehorn has brought history to life in this, his fifth book. Scamehorn, a graduate of Western Michigan University and the University of Illinois, taught history at the University of Colorado, Boulder.
Colorado's Small Town Industrial Revolution
Lee Scamehorn
Dog Ear Publishing
ISBN: 978-14575-0700-7
215 pages
US
Available at Ingram, Amazon.com, Barnes & Noble and fine bookstores everywhere.
About Dog Ear Publishing, LLC
Dog Ear Publishing offers completely customized self-publishing services for independent authors. We provide cost-effective, fast, and highly profitable services to publish and distribute independently published books. Our book publishing and distribution services reach worldwide. Dog Ear authors retain all rights and complete creative control throughout the entire self-publishing process. Self-publishing services are available globally at http://www.dogearpublishing.net and from our offices in Indianapolis.
Dog Ear Publishing – self-publishing that actually makes sense!
# # #