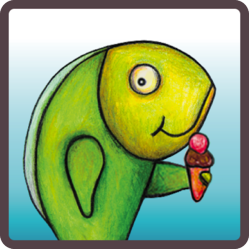 Against a backdrop of beautiful acrylic paintings, the book contains a series of interactive elements and hidden treasures on each page, but with one simple message: Being different is okay.
Jefferson, TX (PRWEB) February 10, 2012
In the interactive children's e-book, Bill the Fish, graphic artist Brett Curzon invites young readers to join him in a delightful journey under the sea, where Bill rides his bike and interacts (virtually!) with a wide range of quirky sea friends. Against a backdrop of beautiful acrylic paintings, the book contains a series of interactive elements and hidden treasures on each page, but with one simple message: Being different is okay.
"Bill the Fish celebrates individuality," explains Curzon. "It teaches children through a series of wildly differing aquatic characters that we are all meant to be different. It's okay to be yourself. Quirks and all."
Curzon had developed a hard copy of the story in 2007 as part of a homework assignment for a graphic design class. He was to create something that could be sold, so he published Bill and brought 100 copies to a local artisan market. The books sold out within a few hours, and Curzon realized that he would need a larger platform for his creativity.
"I began searching for companies that could create an app for me," said Curzon. "It quickly came to my attention that most companies were going to charge me a large sum of money and heavy residuals in order to send my project off to be coded by programmers in a far-away country."
With more research, Curzon came across InteractBooks, which features the InteractBuilder tool: "I immediately recognized that there were two distinct advantages to working with InteractBooks. For one, the tool was easy to use and allowed me to retain control over the output; I was able to focus on the creative side without worrying about the technical aspect. And two, the team at InteractBooks made a concerted effort to help me however they could. It's really more than a company; it's a community."
The Background
"My original intent was to write something for my kids," explains Curzon, whose three children range in age from 10 to 14. "I wanted to help them become more confident and help them deal with challenges in school. When I developed Bill and his relationship to the other characters, I wanted to make the point that they're all different. Feeling out of place is part of everyday life."
Curzon is no stranger to the "fish out of water" feeling. A native Australian, he was deeply impressed by the blatant discrimination aimed at his grandmother, who was an aboriginal at a time when that wasn't accepted: "She was treated quite terribly because of her color."
After moving away from home at age 16, Curzon went through an important period of discovery during his early adulthood, exploring a number of countries on several continents. Over the course of six years, Curzon found himself in Indonesia, Peru, Bolivia, Fiji, Samoa, Malayisa, Mexico, Canada, and the United States (California). He learned an important lesson along the way.
"I made friends with people who were living in abject poverty, including a close friend who lived with his mother in a cardboard box," Curzon recalls. "They are the happiest people you meet. They aren't concerned with accumulating wealth; they are family-orientated."
He married his soul mate, Tracy, and moved back to Australia, settling into his role as a construction worker, despite what he describes as "miserable" circumstances. Curzon was forever changed when he was injured on a construction site where he had been a day laborer for eight years. Once a sponsored surfer, he was devastated that he could no longer surf, and he was forced to make a career change that didn't involve manual labor.
Curzon was accepted into a graphic design program at The Hunter Institute of Technology with the help of a little white lie: "Ironically, I was applying to a school of technology, but I had never actually turned on a computer prior to joining the program," he recalled. Nevertheless, he completed the two-year program successfully, ranking second in a class of 60 students.
A lifelong painter and visual artist, Curzon found graphic design a manageable trade, more in line with his creative instincts than the construction field. Yet, designing CD covers and returning commissioned art remained a profitable trade and not a source of enjoyment.
With the unflappable support of his family, Curzon discovered that writing children's books was the best antidote for dealing with the fast-paced nature of the world. "Kids don't complicate things. Writing these books reminds me that there's a beautiful simplicity to life, and it's just beneath the surface."
The importance of individuality is equally simple, but not always obvious. "If a diver were to judge an oyster by its shell on the outside, he might never discover the beautiful pearl inside," Curzon relates. "I like to remind my young readers of the importance of this idea, so I sign their books with this message. I say: 'Always look a little deeper.'"
About InteractBooks, LLC.
InteractBooks provides tools for non-programmers to create high-quality e-books, and other media in an interactive format that make effective use of touch-screen tablets and smartphone devices. Currently available for the iPad, iPod Touch and iPhone devices, the app will soon be running on Android devices including the Amazon Kindle Fire, Barnes and Noble Nook Tablet. The app is also being ported to run on Windows Phone devices later this year.
The InteractBooks App is available as a free download from the Apple iTunes App Store. Browsing the InteractBooks Store directly from the App, users can download from a growing library of interactive children's e-books (also known as InteractBooks), there are a couple of free books available for download too.
The InteractBuilder is also a free software download which runs on Macs and Windows PC's that works in conjunction with the InteractBooks App allowing users to create their own interactive books. With the help of a comprehensive library of video tutorials and a network of technical support, the tool has become the most effective resource for children's book authors, illustrators and presenters wishing to enter into the wonderful world of interactive media. In addition to featuring books in it's own interactive book store, InteractBooks also offers the ability to publish interactive books as stand alone apps.
###