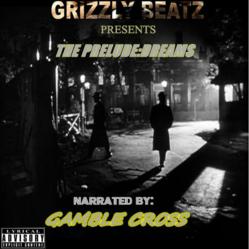 Miami, FL (PRWEB) February 09, 2012
Hip hop artist Gamble Cross recently released his mixtape "The Prelude: Dreams." Presented by Coast 2 Coast Mixtapes and Grizzly Beatz, and narrated by Gamble Cross, it is now available for free download. "The Prelude: Dreams" features Gamble Cross on 12 original tracks. Production credits include Grizzly Beatz, Clientel, Topmass Productions, Scott Slagle, Tha Artist, and AmbitiousMoneyProductionz.
Gamble Cross (Watemon Morris, Jr.) was born in Quantico, VA. The son of a U.S. Marine, Cross grew up in Virginia, Delaware, and North Carolina. The product of an unhappy marriage, he was often put in the middle of his parents' individual and collective struggles. He joined the Army National Guard as an adult, going active Army in 2007. Six months into a deployment in Iraq, Gamble Cross snapped and unintentionally hurt his son. Later diagnosed with PTSD, he spent a year incarcerated, where he began to revert back to writing poems and songs as a way to release some of his issues. Now released, he continues to write more as he attempt to redeem himself for his family. His music has helped him to define and discover who he is.
Cross began recording "The Prelude" in 2006 and didn't complete the project until 2012. He describes it as the embodiment of many issues he has been facing and as a representation of himself as a lyrically conscious rapper proving that NC has a lot to offer the hip hop industry. He lists some of his influences as 2pac, Scarface, Biggie, Big Daddy Kane, Warren G, Rakim, Nate Dogg, Snoop Dogg, Dr. Dre, Eminem, Jay-Z, Kanye West, and many others. Cross is currently working on an EP to be released in early summer, entitled "The Reality: Growth," which will be produced entirely by Clientel from Soundlabb Productionz. He will also release the follow up to "Dreams," "The Prelude: Nightmares," which is a darker take on life, with tales of murder, aggression, and betrayal.
"The Prelude: Dreams" is available for free streaming and download at http://coast2coastmixtapes.com/mixtapes/mixtapedetail.aspx/gamble-cross-grizzlybeatz-presents-the-prelude-dreams-narrated-by-gamble-cross
###