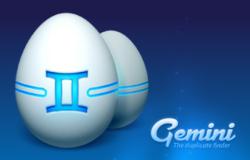 Gemini is the first application that brings UI and design perfection of day-to-day apps to the utilities category. Gemini is a simple, fast and powerful solution for finding duplicates, a task that once was considered boring and time-consuming.
Kyiv, UA (PRWEB) February 09, 2012
Today MacPaw releases Gemini, a new Mac-only duplicate finder and cleaner with a rapid scanning algorithm, gorgeous design and remarkable user interface.
The company has incorporated in Gemini its user-oriented approach of making extremely easy-to-use yet efficient software solutions. Gemini searches for and removes duplicate files including videos, music, images, documents, using unique rapid algorithms while offering users an incomparably intuitive and beautiful interface. System files are ignored by Gemini to ensure stability of Mac OS X.
To find out more about Gemini visit http://macpaw.com/gemini
Enhanced scanning algorithms allow Gemini to quickly find the biggest duplicates so that a user could stop the scan and instantly clean a considerable amount of space if needed. The app can even find folders which have identical content.
Numerous features like rich built-in preview, full-screen support, core animation, drag-and-drop functionality and wide search and sorting possibilities are implemented in the extremely easy-to-use interface that will be clear for any Mac user.
With the Auto Select feature Gemini introduces a brand-new and revolutionary way of cleaning duplicates in Mac OS X. It allows user to avoid manual and boring selection of duplicates and perform this operation with a click of a button. Auto Select automatically selects duplicates by analyzing their parameters like name, location, extension, dates of creation and modification, etc. Files identified as original copies are kept safe. If the algorithm cannot choose what instance of a file is duplicated, it leaves all of them at the user's disposal.
"Everything started from an idea to create a simple one purpose application for removing duplicate files on a Mac. We made a research on what utility apps lack for and found that most of them might be more personal, usable and are not perfectly designed like day-to-day apps. So we created Gemini, the first application that brings perfection of a user interface and design to the utilities category. Gemini is a simple, fast and entertaining solution for finding duplicates, a task that once was considered boring and time-consuming", said Oleksandr Kosovan, MacPaw's CEO.
To make the experience of using Gemini even more distinctive and engaging, the process of removing duplicates was spectacularly visualized. Files are being shredded in such an amusing animated way that users might want to intentionally create and shred their duplicates.
As a software solution Gemini will satisfy any Mac user that is looking for really fast and simple duplicate finder with user-friendly and beautiful interface.
About MacPaw
Headquartered in the Ukraine's beautiful city of Kiev, MacPaw is a premier Mac development firm. MacPaw is a small group of people passionate about software, design, and innovation. MacPaw is dedicated to serving the needs of its customers, and carefully reviews all user feedback. The company aims to create software that is simpler, more user friendly, more flexible, more functional, and more valuable than ever before. Backing it all up with superior customer support. For more information on MacPaw, visit http://www.macpaw.com.
###