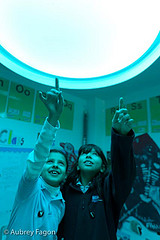 With the installation of our unique, multi-colour light drums, we hope to track and monitor their joint impact on our students and develop an engaged, productive classroom.
London, UK (PRWEB UK) 10 February 2012
The International Community School, a leading independent school in London, has today unveiled a range of unique, multi-coloured light solutions in their Regent's Park Primary School. The lights, inspired by the Philips SchoolVision offerings, have been developed not only as a way of enhancing the quality of light within the classroom, but as a method of improving concentration, mood and behaviour among pupils, who follow the IB curriculum.
Designed by architect, Matthew Ball, and constructed by Trigonometry Construction, each light drum is made up of a mixture of four fluorescent bulbs and three LED strips, offering a range of colours at varying light intensities. With a built in programme function teachers and, more importantly, students are able to choose from a variety of settings throughout the day, including full colour (ranging from hot pink to pale blue), pastel colours, transitional modes across a number of time periods and even a noise sensor which alters the light colour in response to sounds such as a hand clap.
Located in one classroom, the four light drums are currently acting as a pilot scheme. If they're deemed successful in terms of both enhancing the quality of the environment and the students' behaviour and productivity, the aim is to replicate them across the wider school.
Matthew Ball, key project designer and architect said, "Our design for the lights very much focused around the 3 Cs – comfort, concentration and creativity. Big and bold, the 1m diameter light drums not only offer an architectural talking point but, more importantly, respond to the quadrant layout of the classroom, ensuring maximum flexibility for the students below. The different colours and light intensities translate into completely different ambiences – perfect for the varying requirements of a busy classroom."
While these lights are the first of their kind, there has been a raft of research into the positive effects of both light and colour on learning. Stuart Pollard, Head of Primary School, ICS commented, "There are various schools of thought into the effects of colour and lighting on mood, productivity and behaviour. Thus far, the research has remained fairly distinct; however, with the installation of our unique, multi-colour light drums, we hope to track and monitor their joint impact on our students. By offering such diversity to the classroom and giving our primary students the chance to create and manage their own working environment, we hope to develop an engaged, productive classroom."
-ends-
About The International Community School
Established in 1979, ICS is an international school where teaching and learning is driven by best practice utilising the International Baccalaureate Primary Years Programme (PYP) for primary aged students (ages 3 – 11) and the Middle Years Programme (MYP) for secondary aged students (ages 11 – 16). For students aged 16 – 19, the School offers the IB Diploma aimed at students who are university/college bound.
As an independent school with an international focus we have 45 different nationalities represented within our student body including the UK. With a passion for inclusion, we have developed specialised programmes for those seeking English Language support or Special Needs support. We also offer exciting environmental expeditions and trips year-round to our community as well as frequent stays at our Outdoor Education & Environmental Centre in Bawdsey, Suffolk.
###