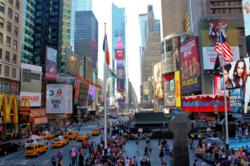 Advertising during the recession is a risky business.
Basingstoke, UK (PRWEB UK) 12 February 2012
Advertising agencies in the UK come in all shapes and sizes, from top advertising agencies in London that charge a premium, down to startup advertising companies that cover local advertising campaigns.
There are a number of different forms of advertising available to businesses, web advertising, visual advertising (such as TV or billboard advertising), magazine advertising and radio advertising.
Marcel Blackburn of Marketing Quotes comments 'all forms of advertising work, to a lesser or greater extent, however the problem that most businesses face is choosing the right kind of advertising that is going to yield the most results. The other factor to consider is the agency that is chosen, all advertising agencies have their own fees based on their overheads, staff numbers and experience (the more experienced the agency, the more they will charge'.
The difficulty that many businesses face (large and small) is that advertising during the recession is a risky business; people are always going to respond to advertising, but are they going to spend money as a result of the advertising campaign.
Advertising will always carry a risk with it, will the campaign run effectively and will the audience respond. The advertising campaign can look great and get lots of great feedback, but if no business comes as a result then is the money wasted?
Advertising is not always about seeking a return, many big businesses use advertising for brand marketing, to keep their brand in front of their audience and encourage brand loyalty. This is still efficient advertising, just more about brand reinforcement rather than driving sales.
There are hundreds of advertising agencies in the UK (companies that can help businesses get adverts into magazines, adverts on the radio etc.) for businesses to choose from, and choosing the right one is important. This can be a daunting situation as selecting the right one is difficult, as there are so many and each one has a website saying how great they are.
Anne Richards of Marketing Quotes suggests 'selecting the right advertising company to work with is different for every business, however there are a few things to consider. Firstly take your time, look at a few different agencies, arrange a meeting and see their offices, ask about their experience and knowledge of your product/service and compare their prices.'
Meetings are an important part of building a relationship and really getting to know a business 'it also gives a chance for the business to get to know you and your products/services' say Marketing Quotes. Having a good understanding about the industry and how to position the campaign is half the battle and in a world of advertising noise, having a clear message is important for the advertising campaign to be effective.
About Marketing Quotes - Marketing Quotes is a free service to UK businesses to help them get free advice and quotes from local marketing agencies. The site covers the whole of the UK to ensure that businesses can find a local marketing company to help them reduce marketing costs.
# # #